Sisi meets with top state officials to ensure success of irrigation system mechanisms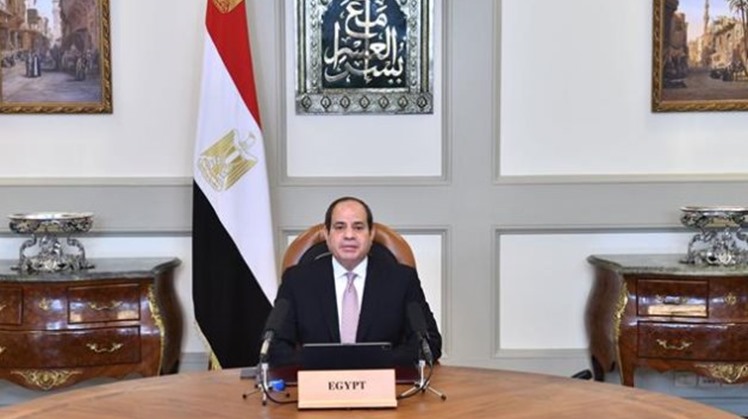 Wed, Apr. 14, 2021
CAIRO – 14 April 2021: Egypt's President Abdel Fattah el-Sisi held a meeting with top state officials on Tuesday to push forward the transformation of irrigation in Egypt into a smart system that saves water, fertilizers and yield.

The meeting involved Prime Minister Mostafa Madbouli, Governor of the Central Bank Tarek Amer, Irrigation Minister Mohamed Abdel Aait, Agriculture Minister Assayed al-Qasir, Military Production Minister Mohamed Morsy, and head of the Arab Organization for Industrialization Abdel Moneim al-Terras.

The smart system includes top-notch irrigation devices that measure humidity in the soil, which will indicate precisely the amount of water and fertilizers needed; hence doubling the income of a farming family.

Sisi told his ministers that such devices need to be affordable for farmers and available in the abundance required in coordination between the Arab Organization for Industrialization and the ministries of irrigation, agriculture and military production. He underscored that financing plans to purchase the devices should be offered to farmers.

Smart irrigation will raise the efficiency of water use, develop field irrigation, increase agricultural productivity at the level of the state.

The president emphasized ensuring the success of transformational irrigation process through concerted ministerial efforts, reducing any water wasted during transfer, lining canals and raising the efficiency of water sub-channels.

He also said farmers should be trained on operating and maintaining smart irrigation systems, and the media should raise awareness on the benefits of modern irrigation.

Egypt has already lined some 1,188 kilometers of canals. Further 4,312 kilometers are being lined, with the target for the first phase of the national project ending in 2022 at a cost of L.E.18 billion for 7,000 kilometers of canals.

For the past few years, Egypt has been in the process of reducing and treating wastewater, building dams to save the scarce rainwater, extracting underground water, and introducing smart irrigation as Ethiopia insists on the unilateral filling and operation of its Renaissance Dam without a binding agreement that ensures the protection of Egypt and Sudan from drought and floods.