Egypt's Sisi sends plane filled with medical supplies to Lebanon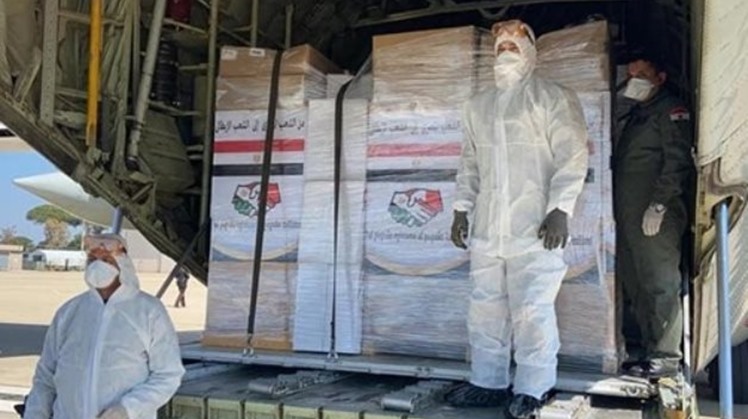 Thu, Aug. 6, 2020
CAIRO – 6 August 2020: A military plane loaded with urgent medical aid took off from Egypt heading to Lebanon to provide assistance and support for the Lebanese people in its ordeal after the deadly blast that claimed lives of 137 people so far and injured more than 5,000 others on Tuesday.

The assistance came upon directives from President Abdel Fattah El Sisi, the Supreme Commander of the Armed Forces, the Egyptian Ministry of Defense said in a statement on Thursday.

On Tuesday, Huge fire was seen on Tuesday just before a deadly explosion took place at the same spot in Beirut, horrifying citizens and destroying houses. The horrible explosion, which has been easily recorded by many citizens, was caused by a fire in a warehouse that housed an estimated 2,750 tons of ammonium nitrate, according to Lebanese Prime Minister Hassan Diab.

On Wednesday, Sisi offered his condolences to Lebanese counterpart Michel Aoun over the death of dozens in the explosion.

During a phone call, Sisi assured Aoun that Egypt stands by the side of Lebanon and is willing to offer any help for Beirut, Presidential Spokesman Bassam Radi said.

Egyptian Ambassador to Lebanon Yusuf Allawi announced on Wednesday that Egypt will open an air bridge to send urgent medical aid to Lebanon. The newly-opened air bridge will carry the required medicine and medical supplies.

Egypt will also send medical teams to participate in relief efforts, along with the efforts made by the Egyptian field hospital that is located in the Lebanese capital, the statement added.

Meanwhile, Egyptian Grand Imam of Al-Azhar Ahmed Al-Tayeb ordered to send medical aid to the Lebanese people.

Several countries around the globe sent or pledged assistance to Lebanon; Egypt, Iraq, the UAE, Kuwait, Qatar, and Iran already sent planes and ships of food, medical, and oil aid. Meanwhile, countries like Saudi Arabia, Russia, Germany, Algeria, and the European Union pledged emergency assistance.

Beirut governor Marwan Abboud announced on Wednesday that the port's losses alone stand at $15 billion, saying that half of the city of Beirut was damaged in the blast.

The Lebanese government declared on Wednesday a two-week state of emergency in Beirut after the explosion, noting that the state of emergency is renewable. Meanwhile, it announced that all officials who were responsible of the storage of the ammonium nitrate cargo will be under house arrest, giving orders to the army to execute the house arrest.