Egypt's Sisi, Head of US Central Command discuss reinforcing military and security relations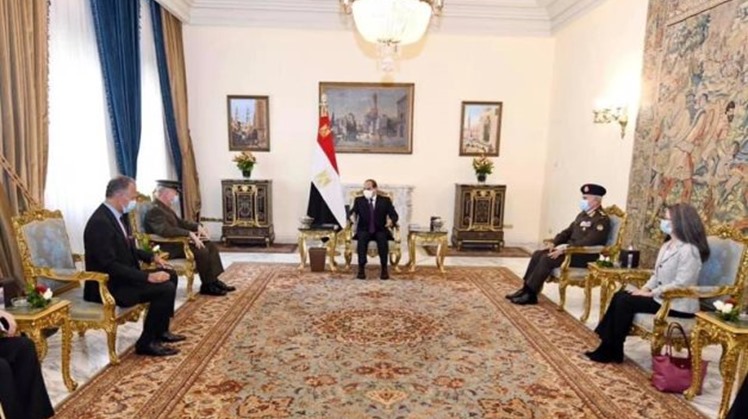 Tue, Feb. 23, 2021
CAIRO – 23 February 2021: Egypt's President Abdel Fatah al-Sisi received on Monday Commander of the U.S. Central Command Kenneth McKenzie Jr. in Cairo as they reviewed the latest developments in the Middle East, Horn of Africa, and East Mediterranean.

The meeting, attended by Egypt's Army Chief of Staff Mohamed Farid and US Ambassador to Cairo Jonathan Cohen, also tackled reinforcing military and security relations, combating terrorism, expertise exchange, and joint drills, as stated by Presidency Spokesperson Bassam Rady.

The Egyptian president welcomed McKenzie saying that the Egyptian-American ties are well established, and that Egypt looks forward to further bilateral cooperation in all sectors, particularly the military one.

President Sisi underlined that cooperation in the military sector should be fruitful on the front of overcoming mutual challenges in the region.

On his side, the commander of Centcom affirmed eagerness to maintain the same frequency of coordination and consultation with Egypt over regional affairs. He added that the strong military ties between both countries are crucial in the face of the ongoing challenges that put the stability and security of the region in jeopardy.

McKenzie said that the Egyptian role is pivotal in supporting regional peace and security, specifying Egypt's endeavors to combat terrorism and extremism.

Both parties agreed to continue regular coordination and consultation over matters of mutual interest.

On February 17, the U.S. State Department approved the sale of new military equipment to Egypt estimated at a cost of $197 million, according to a press release by the Defense Security Cooperation Agency.

According to the release, the sale includes Rolling Airframe Missiles (RAM) Block 2 Tactical Missiles and other related equipment.