Egypt's Sisi reviews with French Senate President cooperation, regional issues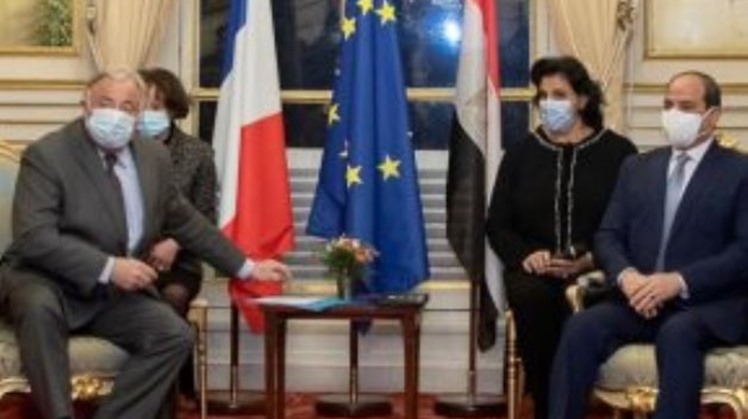 Wed, Dec. 9, 2020
CAIRO - 9 December 2020: Egypt's President Abdel Fattah al- Sisi reviewed on Tuesday with President of French Senate Gerard Larcher means of boosting bilateral cooperation in the coming period, especially in the tourism, cultural, and development fields.

Larcher welcomed President Sisi's visit to France, praising distinguished ties between the two countries, according to a statement issued by a presidential spokesman


"France is looking forward to enhancing partnership between the two countries in different fields, especially in the parliamentary sphere," Larcher said.


For his part, President Sisi hoped that this visit will represent a starting point for the development of a distinguished friendship between Egypt and France at all levels, with special focus on the parliamentary domain, the statement added.


The two sides exchanged viewpoints on the latest developments of issues in the East Mediterranean region and the Middle East and Egypt's comprehensive vision on various challenges facing the region including combating terrorism and extremist thoughts along with restoring security and stability in countries which suffer crises, he added.


For his part, Larcher healed Egypt's efforts in this regard, stating that France supports Egypt and its crucial and balanced role in the Middle East region.


President Sisi arrived Sunday in Paris, and met on Monday with his French Counterpart Emanuel Macron, where both leaders discussed bilateral relations, and different international issues of common interest.