gypt's Sisi, France's Macron assert need to enhance joint work on fighting extremism, terrorism, racism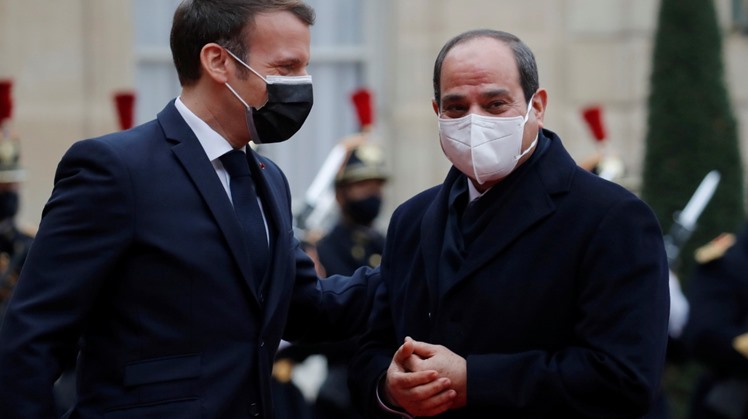 Mon, Dec. 7, 2020
CAIRO - 7 December 2020: Egypt's President Abdel-Fattah al-Sisi said that talks with French President Emmanuel Macron in Paris on Monday asserted the need to work jointly to enhance tolerance, moderation and co-existence among religions, civilisations and peoples.

In a press conference following their meeting, Sisi said that he discussed with Macron the need to enhance joint work on fighting extremism, terrorism, hate and racism.

Sisi affirmed the need to enhance dialogue among people from different religions and cultures, according to Ahram Online.

"I also stressed the need to disassociate terrorism from any religion and to stop profaning sacred symbols and beliefs," Sisi said.

The Egyptian president also asserted the need to fully differentiate between Islam and the practices of some extremist groups that take Islam as a cover and exploit the region to justify their crimes.

Sisi said he discussed with Macron formulating a collective mechanism to counter the speech of hate and extremism, in coordination with religious institutions, with the aim of building foundations of tolerance and peaceful coexistence among all peoples.

Commenting on cartoons of the Prophet Muhammad in France, which have recently sparked anger across the Muslim world, Macron defended the "freedom of press," affirming that the president or any other authority in France cannot tell a journalist what to write or draw.

He affirmed that such caricatures are forms of individual expression and do not represent France.

Macron stressed that this freedom of the press, which is part of human rights, is protected by the law that the people of France have chosen for themselves and that he cannot change this.

Sisi responded to Macron's remarks, saying that "religious values" should be considered alongside "humanitarian values," affirming that these drawings hurt the feelings of millions of Muslims worldwide.

"It is important that, when we express our opinion, that we do not decide that religious values be violated for the sake of humanitarian values."

"The rank of religious values is much higher, because humanitarian values are values that we have made and we can update or regulate," he stated.

Macron, on the other hand, affirmed that France separates religion from politics, adding that considering religion to be above politics would turn the state in France into a religious one, rather than democratic.

Human rights

The discussions with Macron also tackled human rights, racism and Islamophobia, Sisi said, in light of the growing challenges, turbulence and armed disputes in Europe and the Middle East.

Sisi said he reviewed with his French counterpart the Egyptian efforts to enhance human rights for all citizens without discrimination by reinforcing the concept of citizenship, reforming religious discourse and applying the law on everyone equally without exceptions.

He also shed light on Egypt's legislative efforts to promote human rights, including approving the executive regulations of a law regulating work of civil society organizations, with the aim of facilitating work of these organizations and enhancing their organizational and financial capabilities.

"We have more than 55,000 (licensed) civil society organizations operating in Egypt, and they constitute a very important part of the civil work that we aim to make a partner of the government," Sisi stated, responding to a question about human rights violations allegedly committed by Egypt and reported by NGOs.

"It is not appropriate for the Egyptian state, with all that it does for its people and for the sake of the region's stability, to be presented as [being ruled by] an oppressive regime," Sisi said.

"Gone are the days that anyone can constrain the Egyptian people, who include more than 65 million youth, or impose on them a regime that they do not accept. It is over and does not exist."

"I am required to protect a state from an extremist organization that has existed in Egypt for over 90 years," Sisi said, presumably referring the outlawed Muslim Brotherhood group.

He added that the occasional suffering of the people of France from extremism comes as a result of some ideas being transferred by this group, which he did not name, to some of its followers in France and Europe.

He affirmed that he is required to protect 100 million people from suffering the same fate as other countries like Libya, Iraq, Syria, Yemen, Lebanon, Afghanistan and Pakistan.

"We have nothing to fear or be embarrassed by. We are a nation that strives to build the future of its people amid very cruel circumstances in a highly-turbulent region," he stated.

Macron, in his speech, said he discussed with Sisi boosting counterterrorism efforts as well as military and defence cooperation.

When asked about whether France would set conditions on the export of weapons to Egypt in light of the alleged human rights violations recorded by NGOs, Macron denied any intention to set conditions on military and economic cooperation between the two countries.

Macron hailed Egypt's recent release of three human rights activists in Egypt, presumably referring to three members of the Egyptian Initiative for Personal Rights (EIPR) who were released on bail on Thursday.

The French president added that he exchanged with El-Sisi a list of names and that the two leaders would continue to find the best way to release and follow up on the situation of some figures.

On the pandemic

Sisi stated that he exchanged viewpoints with Macron on health and the social and economic implications of the coronavirus.

He highlighted Egypt's efforts to apply a "precise" balance between implementing preventive measures while maintaining economic activities and activating a social protection system to tackle the implications of the pandemic.

"This has made Egypt one of few countries in the world that could achieve positive economic growth rates," he added.

In this regard, Sisi called for increasing the flow of French tourists to Egypt's tourist attractions in Sharm El-Sheikh, Luxor and Aswan, in light of the strict measures applied in these areas, making them almost free of any virus cases.

Investment and Cooperation

"We have agreed on the importance of joint work to increase the value of French investments in Egypt and to benefit from the big chance secured by the giant national projects in Egypt currently," Sisi stated.

The president added that they also agreed on the need to boost trade exchange between two countries and to achieve balance through the flow of Egyptian exports to French markets.

He also called for intensifying cooperation in economic sectors, especially in the fields of pre-university and university education, communications, artificial intelligence, cybersecurity, digital transformation, transportation, health and infrastructure.

This is in addition to boosting military cooperation and cultural and scientific relations.

"My talks today with my friend, President Macron, were characterised by frankness and transparency and reflected the extent of convergence of the viewpoints on many bilateral and regional issues," Sisi said.

Macron said a number of agreements on economic cooperation will be signed between the Egyptian and French sides on Monday and Tuesday.

Regional conflicts

Sisi said his discussions with Macron prioritised the situation in the Eastern Mediterranean, the Middle East and the African Sahel regions, in light of the challenges and crises in these areas that threaten the national security and interests of both countries.

"We have agreed on the importance of the international community countering the aggressive and provocative policies adopted by regional powers that do not respect the principles of international law and neighborliness," Sisi said.

He added that these regional powers "support terrorist organizations and aim at fuelling disputes in the region."

El-Sisi added that he affirmed, along with Macron, the need to continue efforts to settle regional disputes in a peaceful way based on international legitimacy resolutions.

The Palestinian-Israeli conflict was also discussed

"We have also agreed on the importance of creating an appropriate environment for the resumption of the peace process between the Palestinian and Israeli sides, in accordance with the agreed-upon resolutions and the two-state solution, which aims to establish a Palestinian state on the borders of 4 June 1967 with East Jerusalem as its capital," El-Sisi said.

Concerning Libya, Sisi said he and Macron have affirmed that a comprehensive and political solution in Libya is the only way to achieve stability in the country and preserve its regional unity.

"We have agreed on the need for dismantling armed militias and the exit of all foreign forces from Libya, in implementation of what was agreed upon during the 5+5 Joint Military Commission meetings.

They also discussed developments regarding the Grand Ethiopian Renaissance Dam, Sisi said, adding that he reviewed with Macron the Egyptian efforts to reach a binding and balanced legal agreement for the filling and operation of the massive dam in a way that preserves the interests of Egypt, Sudan and Ethiopia.

On Lebanon, Sisi said that Egypt maintains continuous communication with officials in the country and encourages the quick formation of a government that can save Lebanon from its current crisis.