If state institutions back, there will be no chance for the existence of extremist militias: Sisi on WYF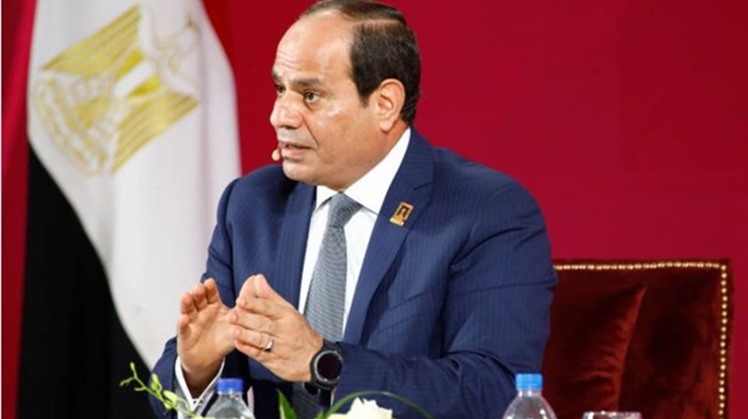 Mon, Dec. 16, 2019
CAIRO - 15 December 2019: "If we are talking about reducing the illegal migration problem, let's first consider the tools existing in the region. What is happening now is a chain of crises whereas a given crisis produces another and so on. If state institutions are back, there will be no chance for the existence of armed militias, extremist militias or terrorism," Egypt's President Abdel Fatah al-Sisi stated on Sunday.

The president's statements were a comment on the speeches delivered by speakers in the panel discussion titled "Fostering Mediterranean Regional Cooperation in Addressing Common Challenges." The session was part of the WYF 2019 Agenda and focused on migration.

"A security imbalance occurred in the region, which has shaken the foundations of certain states. When Egypt advocated for the preservation of state institutions, it was not biased towards specific regimes. It was eager to preserve stability as we would all pay for any defects in the public order," the president explained.

"We call refugees guests. Our conscientiousness prohibits us from letting them embark on illegal migration. At the same time, we do not put them in camps. We are also eager to inhibit the creation of any negative public opinion against them," President Sisi underlined.
The president stressed the necessity to address the roots of the migration crisis in order to come up with sustainable solutions. "If Syria achieves political stability and drafts a constitution fast, the millions of refugees in Jordan, Lebanon, and Turkey will return. The more such moves are delayed, the more problems get accumulated. Why give billions to countries to make room for refugees. Why not let their home countries embrace them. Take your hands off Syria. Let people live. The intervention of some states in Syria out of acting in what they think is their interests is causing harm. We were able to intervene in Libya but we did not because we chose to preserve our relationship with the Libyan people who would not forget our direct intervention in their security," the president suggested.

"Members of the Egyptian Armed Forces are not partisan, they only care about the homeland. If anyone does not share that same creed, they get kicked out. That is why what happened in other countries in the region did not happen in Egypt. The interim government in Libya has failed to fulfill its duties because it is captive of the armed militias in Tripoli and because concerned states are acting independently each in a way that matches its interests. Why do not all safeguard our interests together," the president stated.

"Terrorism has been a means to achieve political gaols. Egypt never conspires against any state even if there is enmity. Some would perceive that approach negatively arguing that matters do not work in such a noble way but we insist that disagreements are resolved through dialogue and by exercising patience. Direct military intervention or the use of terrorism would have a harmful impact on all of us. In 2003, an intervention occurred in Iraq, what are the outcomes? Today, after 16 years, where does Iraq stand? Iraq's resources make it eligible to be in a better place," the president asserted.

"Hundreds of thousands of Egyptians working in Libya returned after the crisis had erupted. However, we invested billions of infrastructure to create job opportunities for the people. Africa is a promising market but needs more infrastructure projects. We were talking about tolerance and accepting the Other, and I would like to say on that front that no party shall think that their values and practices must apply to our countries. The crises in our countries would not happen, if no one managed to impose change upon us," the president concluded.

The opening ceremony of WYF 2019 took place on Saturday evening, while the closing will be Tuesday. The number of participants is 7,000, who were admitted out of 300,000 applicants.

On December 12-13, parallel workshops were held for participants to exchange views on the topics that would later be discussed by panelists on Sunday and Monday. The 16 panel discussions consist of seven sessions on technology, three sessions on the Mediterranean, two sessions on Africa, one session on women, one session on climate change, one session on peace and security, and one session on arts. The closing of WYF 2019 will be Tuesday evening.