Three Reasons to Visit the Egyptian Red Sea in 2018
Dec 18, 2017 - 3 min read
2017 has been a stellar year for Egypt's tourism industry — almost 3.5 million tourists visited Egypt from January to June this year, compared to approximately 2.3 million in the same period in 2016. While Egypt is known for its unparalleled offering of history and culture attractions, its beautiful and warm beaches along the Red Sea remain largely unknown by travel enthusiasts around the globe. Spanning 500 miles of stunning coastline where crystal-clear waters hug the rugged hills of the Eastern Desert, Egypt's Red Sea Riviera is a place that visitors will never want to leave.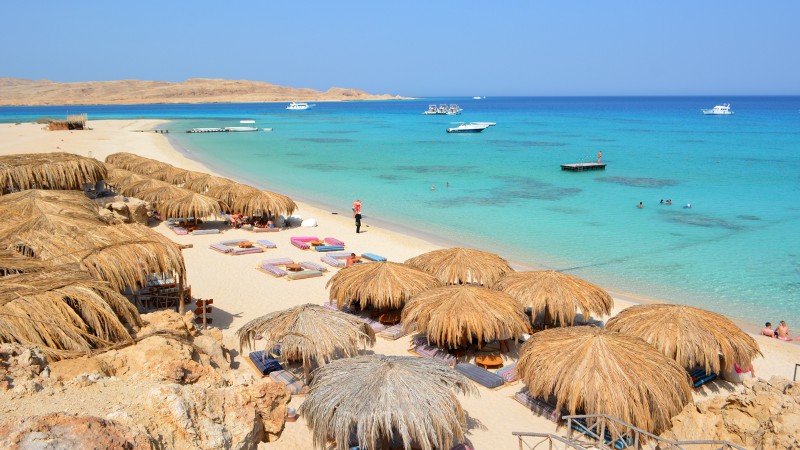 Egypt's Red Sea Riviera offers year-round sun for visitors.
Here are three reasons to visit one of Egypt's best kept secrets in 2018:
1. 365 Days of Sun and Fun
The Egyptian Red Sea's year-round warm and sunny climate allows guests to enjoy tranquil beaches and natural scenery in every season. In a single day, visitors can visit ancient trade cities and shop at ultra-modern malls, motorbike in the desert and take a camel ride on the beach. From the seafront hub of Hurghada to the all-inclusive resort town of Soma Bay, Bedouin home-stays in the desert interior and beach side campgrounds, the region offers a range of accommodations for families, packaged holidaymakers, and independent backpackers.
2. A Water Playground, Above and Under the Sea
Egypt's Red Sea coast is a paradise for water-lovers, whether you're above or below the surface. With an average annual temperature of 73 degrees Fahrenheit, the sea's perpetually warm waters welcomes swimmers every month of the year. The region is a world-class destination for scuba diving and snorkeling; breathtaking sites such as the Brother Islands and Dolphin Reef are home to more than 150 coral reefs and 1,000 species of fish. Glass-bottom bottom boat rides allows visitors to observe these aquatic wonders up close. Water sports enthusiasts can enjoy windsurfing, kite-surfing, sailing, and jet skiing at dozens of internationally-certified facilities throughout the beautiful coastline.
3. Accessible Like Never Before
The Egyptian government recently introduced the new "Egypt e-Visa" for nationals of 49 countries, including the United States and EU member countries, allowing visitors to obtain their visa more easily. Vacationers visiting Europe and ready for a break from treading the cobbled streets can quickly and easily hop over to the Red Sea for a relaxing dip in the warm waters. The Red Sea coast is reachable from all major cities in Europe in under five hours, with dozens of European carriers flying daily to Hurghada International Airport, which opened a new, state-of-the-art terminal in 2015. The region's cities and resort areas are connected by a network of well-maintained roads and inexpensive taxi and bus options that can take visitors wherever they wish to go. For those on a larger Egyptian holiday, the coast is just 50 minutes from Cairo by air. Whatever their origin or final destination, visitors are sure to appreciate a stop at the aptly named Red Sea Riviera.
Visit Experience Egypt for more ideas on how to plan your vacation to Egypt.