A three-year agricultural collaboration plan gets the green light from Egypt and China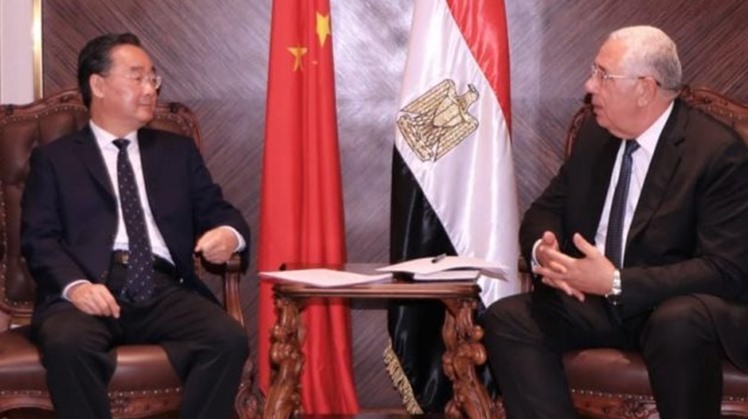 Thu, Aug. 17, 2023
According to a statement released Wednesday by the Egyptian Cabinet, Egyptian Minister of Agriculture, Mohamed El-Quseir, and Chinese Agriculture Minister Tang Renjian, met Wednesday in the New Administrative Capital to sign a 3-year plan to develop and cooperate in the agriculture sector.

The Egyptian minister pointed out the Egyptian-Chinese continuous partnership and trade coordination in the agriculture market. He anticipated that China would sign the memorandum approving the entry of Egyptian mangoes to the Chinese market in September 2023.

The minister also praised China's role in supporting Egypt's inclusion in the BRICS group, an international grouping of world economies.


The cooperation plan includes promoting dialogue regarding climate issues, adopting new irrigation technologies, implementing organic agriculture, increasing fish farming, and managing soil health.

In addition, the plan comprises the exchange of experience and innovations in the agriculture sector, for instance, the innovation of cultivating hybrid rice, corn, soybeans, animal production; and establishing a joint committee.

Moreover, China plans to establish an agricultural center dedicated to combating desertification and researching the development of agricultural processes, especially the cultivation of hybrid rice that is tolerant to water scarcity.

Renjian highlighted the significance of strengthening Egyptian-Chinese cooperation, stating that Egypt's strategic location marks Egypt as a center for movement within Africa.

The history of the Egyptian-Chinese partnership has been notable throughout the years, and the cooperation between both countries, especially in agriculture, has been significant. Both ministers plan to set a 3-year plan to benefit both countries.