Scientific Collaboration Increases Bilateral Cooperation: The U.S.-Egypt Science and Technology Joint Fund
Jul 3, 2017 - 4 min read

Smoke billows from a power station on the Nile river in Cairo, Egypt.
At the Transdisciplinary Collaborative Center for Colorectal Cancer Research in Alexandria, Egypt, Dr. Waleed Arafat is spearheading new research to reduce the incidence of colon cancer.
Colorectal cancer among adults age 40 and younger occurs nearly four times more frequently in Egypt than in the United States, and mortality is nearly two times higher. In Egypt, the disease is often diagnosed at a late stage, due in part to cultural barriers and lack of awareness.
Dr. Arafat's partner in this two-year endeavor is Dr. Mona Fouad, a graduate of his university currently working at the University of Alabama in Birmingham, where she is focused on reducing health disparities in underserved communities.
These esteemed professional have partnered across borders to develop culturally sensitive methods to increase survivorship in both Egypt and the United States.
Their collaboration is just one of more than 500 over 22 years to be backed by the U.S.-Egypt Science and Technology Joint Fund (Joint Fund), formalized by the two governments in 1995 as part of the U.S.-Egypt Science and Technology Agreement. The agreement, and the Joint Fund, aims to strengthen the scientific and technological capabilities of both countries.
The Joint Fund focuses on three main objectives:
• Expand relations between the two scientific and technological communities;
• Utilize science and apply technology to exchange ideas, information, skills, and techniques; and
• Collaborate on scientific and technological endeavors of mutual interest to promote economic development.
"Egypt has a wealth of highly trained scientists and research laboratories," said Rebecca Latorraca, Deputy Mission Director for Egypt at the United States Agency for International Development (USAID). "The relationships that are beginning…between esteemed Egyptian researchers and their American counterparts will continue to build bridges between our countries as we continue to partner in solving the scientific, human, and economic challenges we all face."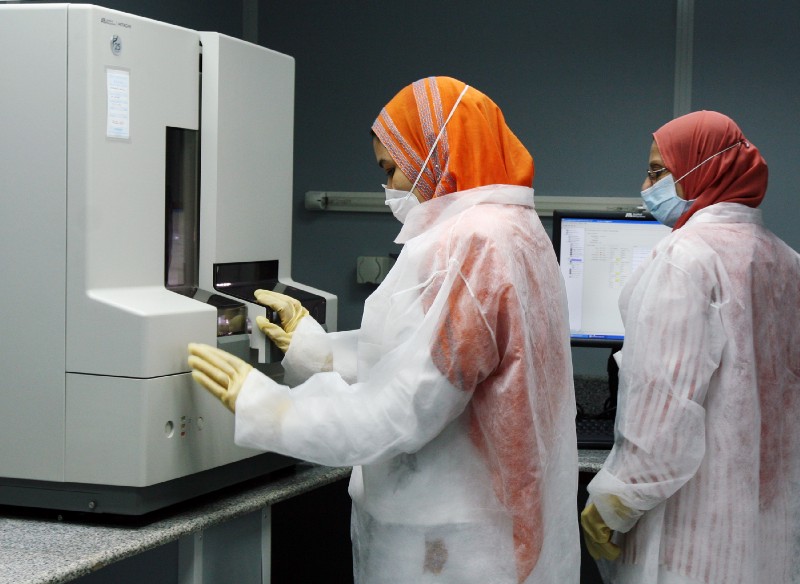 Scientists work on the genetic analyzer machine inside a DNA lab in Cairo, Egypt.
Joint Fund Programs
Noting both the importance of facilitating scientific cooperation among the country's current researchers and inspiring future generations to continue working together, the Joint Fund offers grants in two categories:
• Junior Scientist Development Visit Grants: Grants for short-term, non-academic training visits for Egyptian and U.S. researchers to host country institutions. Maximum of $30,000 USD.
• Collaborative Research Grants: Grants to foster research collaboration between Egyptian and U.S. scientists for a maximum budget of $200,000 USD on each side.
Grants are awarded to enhance scientific research in high-impact areas such as public health, food security, energy and water security. To support the critical activities of the Joint Fund, both Egypt and the U.S. jointly match funds provided by the USAID and the Ministry of Scientific Research. The program is implemented in the U.S. by the National Academy of Sciences and, in Egypt, by the Science and Technology Development Fund.
Encouraging Scientific Achievement
Over the years, the Joint Fund has provided grants for collaborative projects involving Egyptian and U.S. scientists in a wide variety of fields, including agriculture, engineering, health, renewable energy and water. Targeting areas that help promote health and prosperity, recent Joint Fund projects have contributed to vaccines for the H5N1 Avian Influenza virus, developed highly efficient solar cells, and improved wheat and citrus production while reducing the use of chemical fertilizers.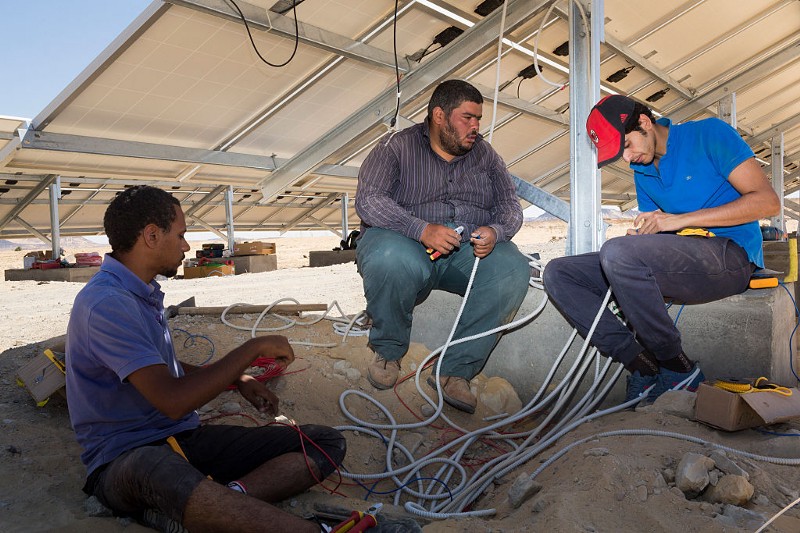 Employees install solar cells in the Western Desert in Cairo, Egypt.
"Through the S&T Fund, Egyptian and American researchers have been able to work together to address global scientific problems and come up with real world solutions," U.S. Ambassador Beecroft said in his 2015 statement. "This fund has enabled over 10,000 Egyptian and U.S. scientists to work on more than 480 collaborative research projects and to participate in over 60 workshops. It has provided grants to over 120 junior scientists to conduct research at U.S. and Egyptian institutions."
Enhancing Bilateral Relations Through Science Diplomacy
A recent paper published by Science & Diplomacy, the journal for the Center for Science Diplomacy at the American Association for the Advancement of Science (AAAS), argued that with globalization, science diplomacy has an increasingly important role to play in improving diplomatic relations across the world. In the Middle East particularly, scientific diplomacy has the potential to play a strong role in the uniting diverse nations to work toward common causes. While science alone cannot solve the problems facing the Middle East — or the world — it can serve as an area for common ground, economic advancement and collaboration.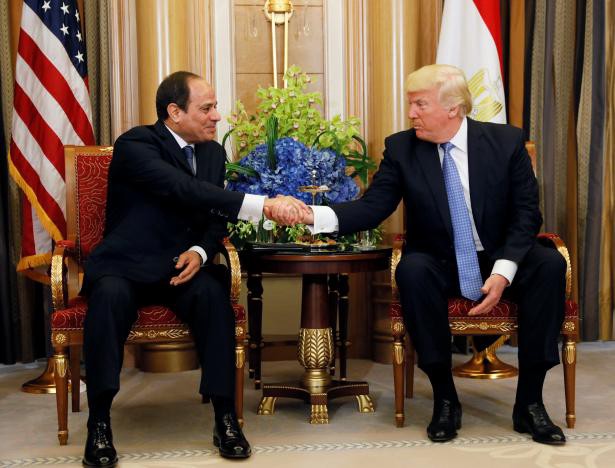 Egyptian President Abdel Fattah el-Sisi meets with U.S. President Donald Trump.
"Science diplomacy has an important role to play in addressing the health, environmental, energy, water, and food challenges that contribute to regional instability," said authors NartDohjoka, Cathleen A. Campbell and Brenna Hill in Science & Diplomacy. "These are shared problems that transcend national borders, and solving them will require collaboration."
In the context of U.S.-Egypt relations, the Joint Fund exemplifies the ways in which scientific bilateral cooperation can make the world a better place for all. Dr. Mary C. Ott, USAID Assistant Administrator for the Middle East summarized the societal benefit as "contributing to a global culture of critical thinking, respect, and cooperation."