Inside Egypt's New Economy: The Cairo "Cargotecture" Startup Poised to Rebuild the Middle East
Jul 3, 2017 - 5 min read

A container ship passes through the Suez Canal. Shipping crates could be the next form of sustainable housing in Egypt.
A year ago, a Cairo farmer tending to his crops in Beni Suef would have to end his day with a grueling, two-hour drive home from the agricultural hub to the industrial center.
Today? It's a short stroll from the fields to his new farmhouse — a modern, handsomely appointed home tucked in the last place you'd expect to see such luxury.
The house boasts two full bathrooms, a master bedroom, living room and fully equipped kitchen — all air conditioned, with hardwood flooring — even a rooftop deck, floor-to-ceiling glass panelling on one wall and a sunshade-draped patio that offer unbeatable views of the surrounding landscape.
It's a startling level of farm-side opulence to see in such a remote and rugged environment.
But according to Youssef Farag and Karim Rafla — the two young Cairo entrepreneurs who designed and built the entire structure — this farmer's new home is just the beginning.
"This was a golden opportunity for our proof of concept," says Farag, who gushes about what's possible when you stop using traditional brick and mortar construction methods and start using the far more flexible approach their company Qubix is pioneering in Egypt — they call it "cargotecture." In other words, transforming used shipping containers into everything from houses and restaurants to offices and hospitals.
"It's a real rag to riches story for the container," says Farag. "It ultimately turns into a piece of art."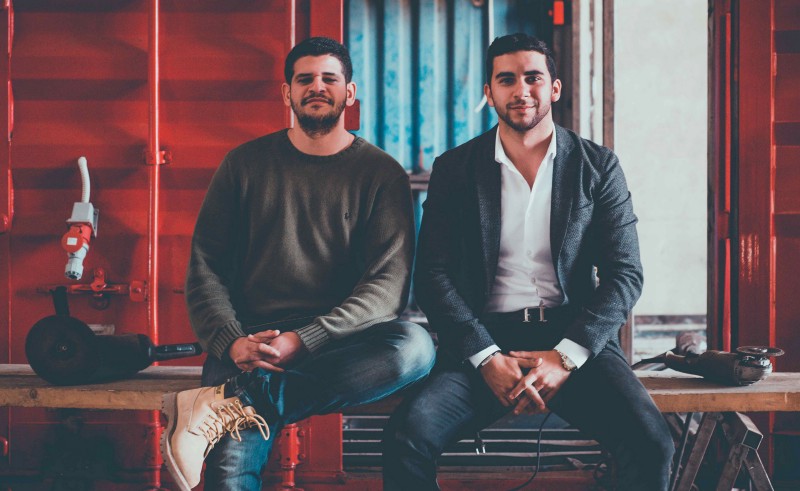 Cargotecture founders Youssef Farag and Karim Rafla.
Art that just might heald a revolution in Egyptian housing and business development. For overcrowded areas like Cairo, cargotecture offers an affordable solution to quickly and efficiently scale up high-quality, low-cost housing. And for fellow Egyptian entrepreneurs trying to launch their own dream business, it represents a viable path into what can often be prohibitively expensive real estate markets.
"It's environmentally friendly, it's cost-efficient, it's sustainable, it's faster to build, it's stronger as a structure and it's adaptable to any industry," Rafla explains in an interview with Cairo Scene. "It's such a brilliant idea; it's one of those things that don't exist in Egypt and you're lucky enough to be the pioneer of it."
Lucky is one way to put it. Ask Farag how he and Rafla decided to quit comfortable careers at family businesses and he won't gloss over the daily challenges, or "frighteningly steep learning curve," of launching a startup.
"There's no such a thing as the 'right time,'" replies Farag. "It's about having the will and finding a way, seeing the potential that your efforts will be worth your while down the road — and we saw that ever since day one."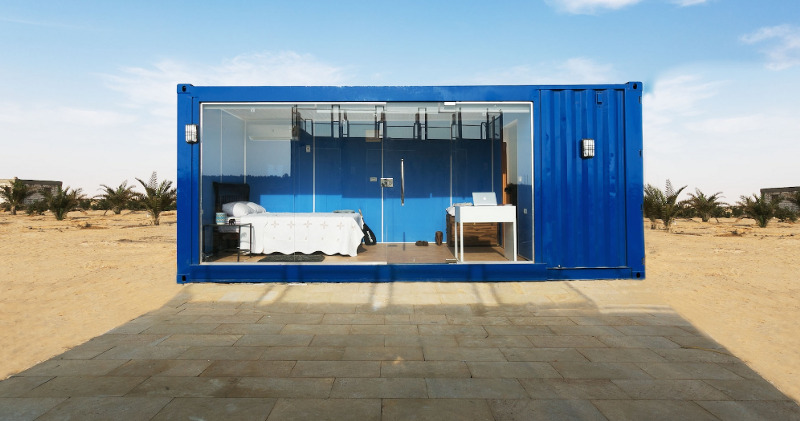 A cargotecture bedroom.
It's a spirit more and more young Egyptians are beginning to embrace as the economy rebounds and vibrant startup scenes take off in cities like Cairo — incubators bursting with everything from mobile app designers to environmentally conscious clothing lines to next-gen medical device makers.
It helps that each year, some 300,000 Egyptians earn university degrees, 35,000 of which are in science, technology and engineering-related fields. But Egypt's growing culture of innovation reaches far beyond the tech scene, touching many facets of public life. With an ambitious and well-educated generation just coming into their own, the most diverse Parliament in history, and economic ministries led by experienced technocrats, it's easy to see how Egypt can deliver on its "2030 Strategic Development Strategy" — a bold suite of economic development, social justice, knowledge, innovation, and environmental goals and targets likely to spur even more startups like Qubix as the investment environment improves.
Already, the economy is estimated to have grown 3.8 percent through 2016, with 4 percent growth forecast for 2017. And tourists, historically a key economic driver, are returning in droves: Visits have increased more than 50 percent through the first quarter of 2017 compared to last year, with 10 million visitors estimated by year-end.
As the government continues to advance a series of difficult economic reforms, including the introduction of a value-added tax (VAT), many international investors and business leaders are taking a fresh look at Egypt.
Recently, Standard & Poor's, Fitch and Moody's have all upgraded Egypt's sovereign credit ratings from negative to stable in recognition of both the strength and depth of the government's reform program.
And the International Monetary Fund not only pegged Egypt's mid-term economic growth forecast at six percent, they put a $12 billion bet on it — offering Egypt a three-year, $12 billion Extended Fund Facility (EFF) and giving high marks for "a very strong budget" and "essential" social protection measures following a visit to Cairo to review Egypt's progress.
For Qubix's Farag and Rafla, though, the evidence of their country's resurgence isn't relegated to institutional assessments — they see it every day, all around them, in the sweat and efforts of fellow Egyptian entrepreneurs.
Take Qubix's second-ever sale. Farag noticed a Facebook post from the founder of fast-growing health and fitness startup BeFit seeking new hires. Instead of a CV, Farag sent over a business proposal to help BeFit expand.
"Within hours we had a response and we set up a meeting for the next day," says Farag, whose cold-call approach won Qubix an order for two 40-foot containers to be used as a physiotherapy clinic and massage outlet. "It was a new offering and service for his clients and he saw that using our service would be a great way to do it."
While BeFit is still relatively young, and Qubix's founders can still count their customer base on their fingers, both firms are growing at an impressive rate. And they're not alone.
"In Egypt, the entrepreneur bug is widespread," says Farag, applauding fresh thinkers like FinTech, one of an increasing number of competitors racing to solve Egypt's low credit card penetration rate, and Cube, which is "merging financial services with social media in a very unique and exciting way."
"We were driven by the idea that we were doing something new, something risky, and something that had the potential to grow exponentially and extremely fast," says Farag. By most accounts, the same can be said of the country at large.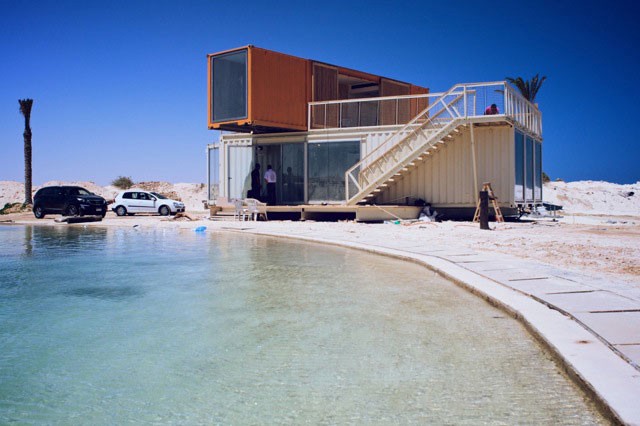 A restaurant built from repurposed steel shipping containers in Cairo, Egypt.