Flags of Egypt and Russia Showcased on Ostankino TV Tower Celebrating 80 Years of Diplomatic Relations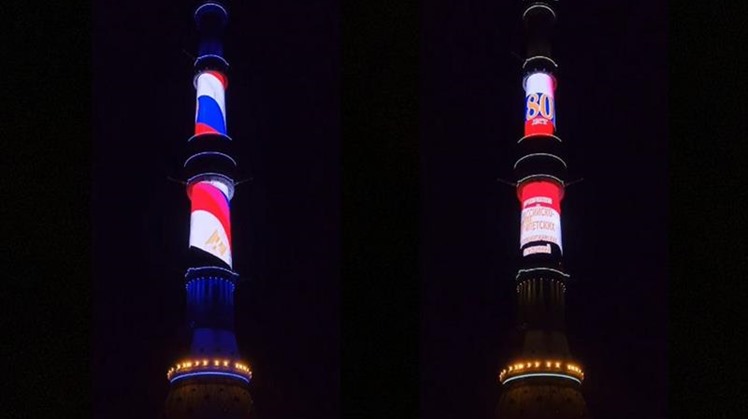 Sun, Aug. 27, 2023
The Ostankino TV tower in Moscow was lit up in the colors of the flags of Russia and Egypt as both countries celebrate on Saturday the 80th anniversary of the establishment of diplomatic relations.

In a statement today, the Russian embassy congratulated the Russian and Egyptian peoples, who share longterm friendship, stressing that bilateral cooperation, which has reached the level of a comprehensive strategic partnership, will continue to strengthen over the coming years in accordance with mutual interests.

For its part, the Egyptian Ministry of Foreign Affairs had announced, earlier on Saturday, that as an expression of the speciality of this occasion, the Ministry of Foreign Affairs building in Maspero in Cairo was lit with the slogan "Egypt 80 Russia".
Foreign Minister Sameh Shoukry and his Russian counterpart Sergey Lavrov have been keen on exchanging greeting letters, which assert the depth of profound Egyptian-Russian relations and eagerness of both sides on maintaining joint action towards fostering cooperation in all fields alongside promoting friendship between the people of both countries, according to a statement issued by the Foreign Ministry on Saturday.

The celebrations to mark the 80th anniversary, which will last for one year, will witness holding a number of events and joint programs that aim to shed light on the history of the distinguished and diversified Egyptian-Russian relations.

Egypt's Foreign Ministry lit up on Friday night its premises to display the word "Egypt, Russia 80" to celebrate the 80th anniversary of the establishment of diplomatic relations between Egypt and Russia.