Sisi discusses with Chinese Defense Min. 'Belt and Road'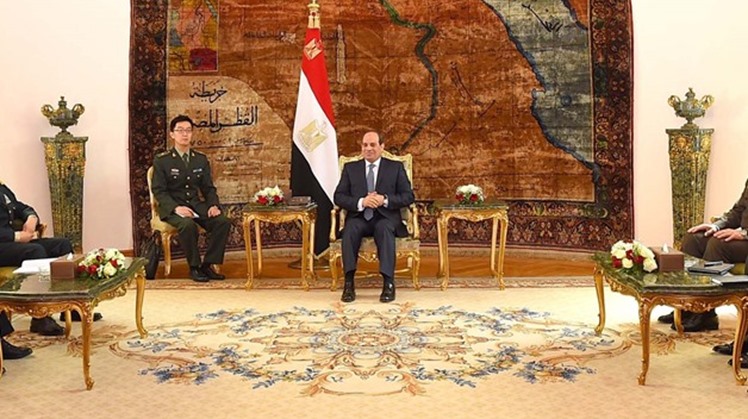 Tue, Mar. 26, 2019
CAIRO – 26 March 2019: Egyptian President Abdel Fatah al-Sisi discussed on Monday with the Chinese Minister of Defense Wei Fenghe the Chinese initiative, "Belt and Road", in Al-Ittihadyyia Presidential Palace, according to the Presidential Spokesperson Bassam Rady.

The Belt and Road Initiative was launched by the Chinese government to enhance trade, investments, and infrastructure in than 150 countries in Asia, Europe, Middle East, Africa, and Latin America. The initiative is a revival to what was known as "The Silk Road."

Fenghe expressed his country's keenness to develop the strategic relations with Egypt on all levels, praising Egypt's prestigious status as a key to stability in the Middle East, under the leadership of President Abdel Fatah al-Sisi.

The meeting was attended by Egyptian Minister of Defense Mohamed Zaki and the Chinese ambassador in Cairo, the presidential spokesman's statement added.

President Sisi asserted that the Belt and Road Initiative is complementary to Egypt's development efforts to attract more investments and build new megaprojects across the country, including the Suez Canal Corridor, logistic industrial zones, and new ports on the Red Sea and the Mediterranean Sea, according to the statement.

The meeting also tackled the bilateral cooperation between both countries on the military and security levels, besides ways of combating terrorism and joint military exercises.