The Museum Documentation Committee is carrying out its work at the Museum of Modern Egyptian Art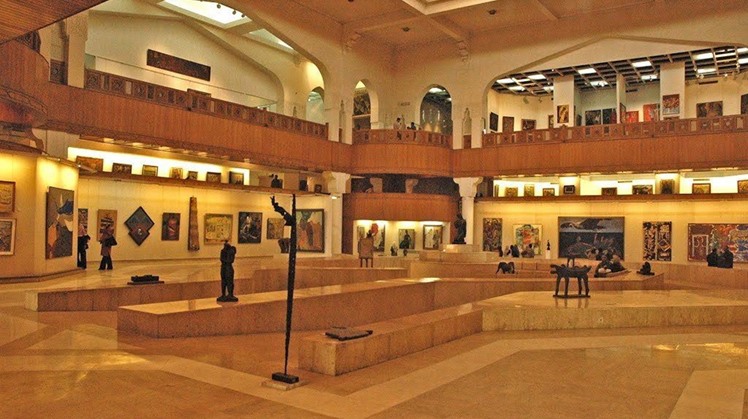 Thu, Feb. 2, 2023
The Committee for Documentation and Review of Art Museums' Holdings began its work yesterday evening - Tuesday - at the Museum of Modern Art on the grounds of the Egyptian Opera House.

The first meeting of the committee witnessed a discussion of the mechanisms that will be adopted in documenting, auditing and reviewing the business data contained in the Egyptian art museums. An open dialogue took place on the importance of re-pricing the holdings according to the real market values. The way of loaning inside and outside the country, bearing in mind that many of these works carry more literary value than material evaluation.

Dr. Walid Kanoush, Head of the Fine Arts Sector, had formed a committee of specialists and academics from different generations of artists who are known for their high artistic culture and competence, in implementation of the directives of Dr. Nevin Al-Kilani, Minister of Culture, to prepare a complete database for the holdings of Egyptian art museums, after documenting and reviewing all works.

The committee consisted of artists Dr. Emad Abu Zaid, Dr. Asmaa El Nawawy, Dr. Amira Fahmy, Dr. Rania Abu Al Azm, Dr. Ahmed Mohamed Ibrahim, Dr. Dalia Ashraf from the Departments of Photography and Art Criticism at the Specialized Colleges of Arts, Dr. Ahmed Mousa, Dr. Mohamed Abbas, Dr. Baher Abu Bakr, Dr. Abdel Majeed Ismail from the Department of Sculpture, Dr. Muhammad Eid, Dr. Muhammad Al-Tohamy, Dr. Shady Adeeb, Dr. Evan Adeeb from the Department of Painting and Graphics, Dr. Ayman Khalaf from the Department of Works and Folklore, Dr. Amani Fawzi, Dr. Safaa Attia, Dr. Samar Abd Al-Sadiq, Dr. Marwa Ali from the Ceramics Department.

It is noteworthy that the holdings contained in art museums number approximately 30,000 works of art in various fields, and the records of the Museum of Modern Egyptian Art alone include more than 14,000 works of art. A full list of museums' holdings, which will be available to students and those interested in plastic arts through the electronic portal of the plastic arts sector at the Ministry of Culture.