Egypt's Min of Culture meets a delegation from South Africa to agree on the activities of the "cultural season"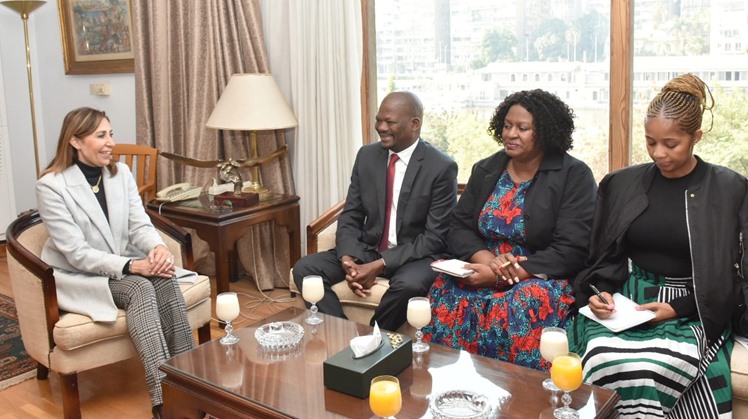 Sun, Jan. 22, 2023
Dr. Nevin Al-Kilani, Minister of Culture, met with the delegation of the Ministry of Culture and Arts in South Africa, to discuss joint cooperation frameworks and the activities and events to be held during the coming period.

The meeting witnessed an agreement to hold the "first South African cultural season", which will include a group of events, including exhibitions of books, crafts and handicrafts, and joint workshops between Egyptian and South African teams in the field of performing arts, in addition to setting up a business forum that discusses the role of culture and arts in the framework of implementing the agreement. Continental free trade, and an artistic forum for painting on murals.

Dr. Nevin Al-Kilani emphasized the interest of the Egyptian state in the African continent, noting that culture is a major focus in most of the agreements and memorandums of understanding that the Egyptian state concludes with the countries of the continent.

The Minister of Culture said that the "first South African cultural season", which is to be held in the coming months, will continue for ten days, and is a new door to building bridges of cooperation with South Africa, and an available opportunity to introduce unique and diverse African cultures and arts.

Dr. Iman Negm, Head of the Foreign Cultural Relations Sector, confirmed that the forum will mix the rich Egyptian arts with the distinguished South African arts, which will provide an opportunity to open new horizons for cultural cooperation with South Africa.
Negm said that the events will be organized in cooperation with the various sectors of the ministry, particularly the Supreme Council of Culture, the Egyptian Opera House, the General Authority for Cultural Palaces and the Cultural Development Fund.

For his part, Rufus Matbi, Director of the International Relations Department at the South African Ministry of Culture and Arts, expressed his happiness in cooperation with the Egyptian Ministry of Culture, pointing out that the aim of the South African cultural season is to introduce the Egyptian public to the South African arts and heritage inherited through generations through a series of activities that will be prepared in cooperation with The Egyptian Ministry of Culture, and Matbi expressed his fascination with the greatness of Egyptian civilization, history and heritage, and the heritage and archaeological monuments that he visited during the past days to find out about the places where the events will be held.

The delegation of the South African Ministry of Culture and Arts included Ms. Masana Chikaka, Director of the Cultural Development Department, and Ms. Melissa Magaka, Assistant Director of the Events Department.