Egyptologist Zahi Hawass gives a lecture on archaeological discoveries in Luxor at the Houston Science Museum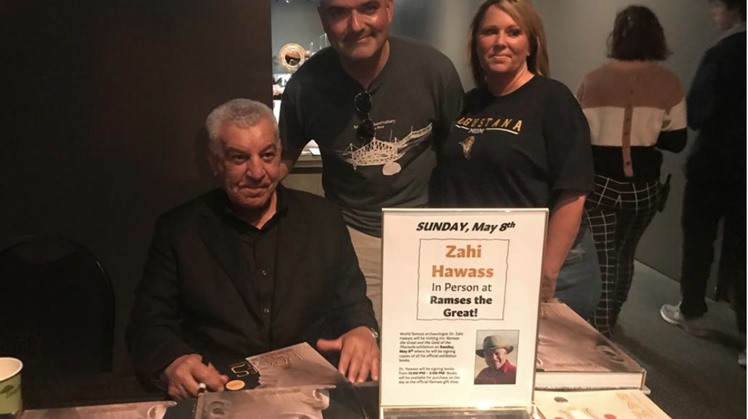 Thu, May. 12, 2022
Egyptian archaeologist Dr. Zahi Hawass gave a lecture on the recent archaeological discoveries in Luxor, at the Houston Museum of Natural Sciences, Texas, USA.


Hawass confirmed that the history of the lost golden city in Luxor dates back to the reign of King Amenhotep III, and it continued to be used by Tutankhamun, that is, 3000 years ago, and work had begun in this area to search for the mortuary temple of the king, Tutankhamun, because Previously, the temples of Horemheb and Ai were found.

Hawass continued, "I found the largest city ever in Egypt, which was founded by one of the greatest rulers of Egypt, King Amenhotep III, the ninth king of the Eighteenth Dynasty, who ruled Egypt from 1391 BC. And until 1353 BC. He was shared by his son and future heir to the throne, Amenhotep IV, Akhenaten, the last eight years of his reign.


Hawass talked about his participation in re-announcing an important archaeological discovery in the archaeological area of ​​Ghurifa in Minya Governorate, in order to promote tourism to Egypt, on the International Discovery Channel with explorer Josh Gates. Gates granted access to one of the most daring adventures at the excavation site of an ancient Egyptian secret room. It was first revealed live on the Discovery Channel show.


Hawass opened the coffin for the first time with Josh Gates, the star of the Unknown Expedition program, which was broadcast on the Discovery Channel in Upper Egypt, stressing that the tomb is a very important place for two reasons, because it was not opened before and because it is a complete ancient Egyptian family, and it was not revealed The mummy found inside the coffin for 3000 years, and at the end of the lecture Hawass signed his new book about King Ramses II.