The Suez National Museum is a historical lighthouse that includes 2,500 artifacts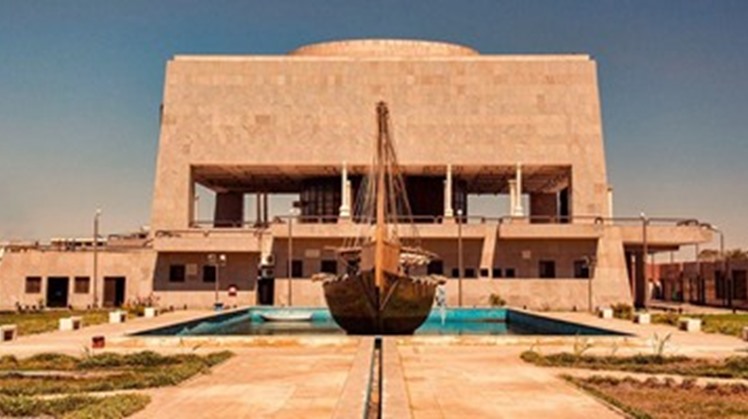 Sun, Nov. 28, 2021
The Suez National Museum is a historical beacon between the past and the present, and preserves Suez's history through the ages. The museum is also a cultural and historical edifice that embraces the land of Suez, and it is one of the most important national and tourist places in the governorate.

The Suez National Museum, which was opened in 2012, is located on the Gulf of Suez, and includes 2,500 artifacts that tell the story of the city, from prehistoric times to modern times. A model of one of the ships of Queen Hatshepsut's fleet is displayed inside an artificial water basin.

The antiquities of Suez, which were preserved in the stores of the Egyptian Museum in Cairo since the war of 67, returned to the museum. These antiquities remained in the boxes safe from the destruction of the war, according to the State Information Service website. Other artifacts were also added from other museums and archaeological sites around Suez, such as "Oyun Musa and Wadi" Spies." The museum has halls that tell of ancient navigation through the ages, as well as halls of Greek and Islamic antiquities. Since its opening, the Suez Museum has won several awards, including the award for the best community communication for children's excavations, since its opening.

The museum presentation scenario tells the story of the city of Qalzam and the Nekau channel, and highlights the rulers whose history has been associated with contributing to the establishment of this channel since the dynastic era, during the Persian occupation, then the Greco-Roman, up to the Arab conquest, according to the website of the Ministry of Tourism and Antiquities, and the museum also highlights the history of relations Egypt's trade, mining and shipbuilding, the city's importance in relation to pilgrimages to the Holy Land, and the history of the current Suez Canal, with an entire hall dedicated to the modern history of Suez documenting the heroism of the city's sons during their armed struggle against the British occupation, and during the battle of October 24, 1973 AD.