Ismailia and Aswan .. Where did the activities of the mobile theater in the cultural palaces reach?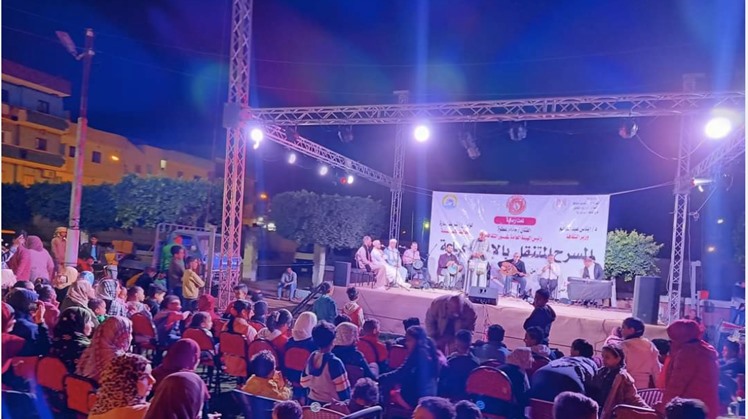 Sun, Nov. 28, 2021
The activities of the mobile theater, organized by the General Authority for Culture Palaces, headed by director Hisham Atwa, in the Ismailia Culture Branch in the Canal and Sinai Cultural District, headed by the writer Mohamed Nabil, continue at the Sarabium Youth Center in Ismailia. A group of poems in love with Egypt, and Mohamed Youssef also gave a lecture on Arabic calligraphy.

The ceremony was concluded with an artistic performance by the Big Hill Band for religious chanting, during which a group of songs, tashweeh and religious chants were presented, including "Ya Habibi, Ya Muhammad", and a workshop began to manufacture various forms of beads.

The General Authority for Culture Palaces, headed by the artist Hisham Atwa, organized the activities of mobile theaters in the youth center of the village of Salwa Bahri in Aswan, through a culture branch headed by Najwa Ahmed Sayed, affiliated to the region of South Upper Egypt headed by Mohamed Idris, from 26 to 28 November, to spread cultural and artistic awareness Achieving cultural justice in the governorate and villages for a decent life.

The first event included a lecture entitled "A lecture against female circumcision, health and sexual risks." During the lecture, Ahlam Ahmed Abdel Hamid spoke about the negative health effects of female circumcision, the effect on sexual health through lack of pleasure or lack of desire, psychological and nervous shock, bacterial infection and ulcers. and urinary retention.

From the psychological effects, she added, feeling anxious, fearful, lack of self-confidence, entering into the stage of depression, suppressing feelings and feeling incomplete, in addition to the "Embroidery Accessory" workshop by trainer Radwa Adel, using threads, tires, cloth and frame, and a poetry evening was held in which the poet Badawi Muhammad Ahmed and a poem "Praise the Messenger, My Patriotism" by the poet Mahmoud Al-Sinari, and the talents of children and villagers were discovered in "singing, reciting poetry, and chanting."

In the end, a performance was presented by the Seventh Ensemble for religious chanting, led by Sheikh Hussein Al-Bayoumi, who presented a group of praises and exhortations, "God is on the light of God, comfort you, O Messenger of God, Qamarun, O beauty, pray for the guide."