The 2021 project ... The Grand Museum displays 54,000 artifacts, and its cost exceeded one billion dollars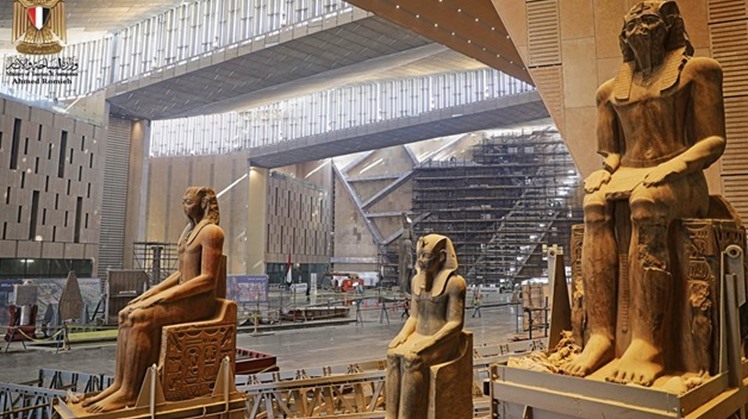 Sun, Jan. 3, 2021
The Grand Egyptian Museum is one of the largest global museums and the largest of one civilization, and the whole world awaits its scheduled opening during the current year 2021, because it contains more than 50 thousand artifacts, including the possessions of King Tutankhamun, which are presented for the first time in history to the public in a manner. The project is the focus of attention of the Egyptian government, which removes any obstacles that may affect its completion. At the time of its opening, the world will see things that it will not find except in this great cultural edifice.

The Ministry of Tourism and Antiquities announced that the total of the artifacts transferred to the Grand Egyptian Museum reached 54,223 pieces, and Dr. Al-Tayeb Abbas, Assistant Minister for Archaeological Affairs at the Grand Egyptian Museum, Assistant Minister for Archaeological Affairs at the Grand Egyptian Museum, said: More than 82 thousand objects have been registered on a database The Grand Museum, some of which have already been transferred to the Museum, and some will be transferred later in the coming period, according to the timetable for the transfer of artifacts from the various sites and museums of the Grand Egyptian Museum.

Dr. Al-Tayeb Abbas pointed out that before any piece reaches the Grand Egyptian Museum, groups come out from the museum to record and document the pieces inside the places where the piece is exhibited, whether in museums or archaeological areas, after it is allocated through the approval of the permanent committee, to take dimensions and lengths and record their condition. After the registration stage, we begin the transfer phase, to enter the Grand Museum, to enter the restoration laboratories if the movable piece needs that, but if it is not in need of restoration and is in good condition, then it enters the stores.

As for the construction work that took place in the museum, it reached about 97%. The remaining 3% of the volume of construction works are 80 companies, and for the museum facade it was made with Egyptian materials and saved more than $ 180 million, and it cost 10% of the estimated value that was Set aside for her before, it's $ 200 to $ 250 million.