Happening at the Museum of Islamic Art .. Training of the elderly and those with abilities on traditional crafts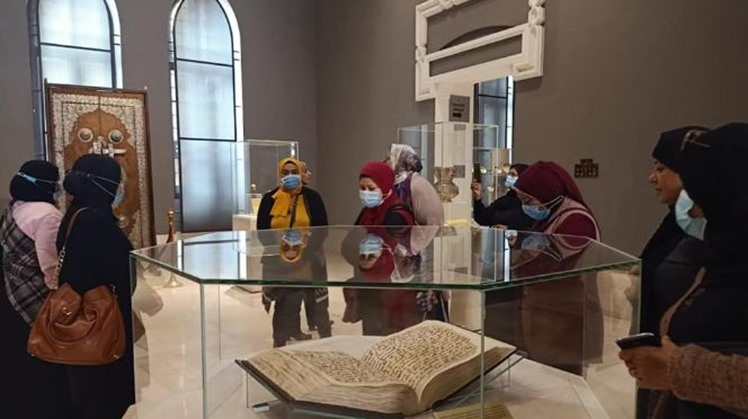 Wed, Nov. 25, 2020
The General Administration for Museum Education for People with Special Abilities, in the Museum of Islamic Art, organized a group of traditional crafts programs for those with special abilities, including "the elderly - fighting cancer - orphans after adulthood - inmates of the Abbasid Mental Health Hospital" and others, through attending a group of museums The various Egyptian affiliated to the sector, under the auspices of the Ministry of Tourism and Antiquities, and the supervision of the museums sector represented by the General Administration of Museum Education for People with Special Abilities and in continuation of the implementation of the Department's Action Plan program within the framework of the axes of the 2030 Sustainable Development Plan Egypt, and in view of preserving the heritage identity, through the revival of heritage crafts.


These programs aim to revive the traditional and heritage crafts, by acquiring the skill of implementing different units of a product inspired by the models of different civilizations through the ages, in addition to increasing the ability to focus, raising the mental capabilities and developing the creative skills of the trainees.


This program also aims to link different age groups with museums through teaching a heritage craft that the museum highlights, as it is a cultural beacon and an educational, recreational institution that works to connect it with the surrounding community, as it plays a major role in contributing to solving the unemployment problem, by learning some crafts In addition to establishing the value of the intangible heritage, the importance of preserving it, enhancing self-confidence, and the trainee's sense of its value, and introducing a kind of joy and happiness to the trainee.

The second of these programs was under the title: "The Art of Khayameya" for Cancer Fighters at the Islamic Services Association in ancient Egypt and the initiative "We will make them happy despite the pain" established by Nashwa Saleh, and organized by the administration under the supervision of Tahani Noah, the General Supervisor of the Administration, in cooperation with Ruqaya Farouk and Abeer Ezzat Department Museum education for people with special needs in the Islamic Museum, under the direct supervision of Dr. Mamdouh Othman, Director General of the Museum.



The program included a guided tour inside the museum, accompanied by Ruqaya Farouk, and then began to activate the practical application with Saba Abdel Azim to implement products related to Islamic art, under the supervision of Mrs. Safwat, the department's community communication officer, and the supervisor of the activation of the program of reviving the heritage crafts for people with special needs in the administration.

As this was implemented in the museum park, while taking all precautionary and preventive measures to limit the spread of the Corona virus, by wearing medical masks, while adhering to social distancing through safe distances.