The arrival of The coffins of the Al-Asasif cache at the Grand Egyptian Museum to restore (video)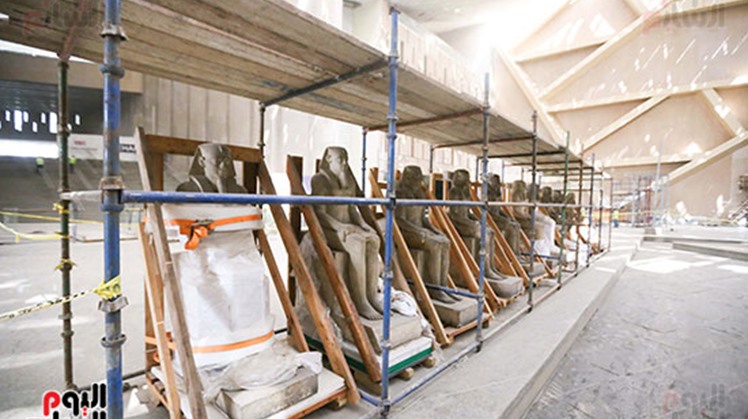 Sun, Sep. 20, 2020
The coffins of Khafat Al-Asasif, which were found by the Egyptian mission in October 2019 in Luxor, entered the wood laboratory at the Restoration Center of the Grand Egyptian Museum, and Dr. Ahmed Abd Rabbo, deputy head of the Wooden Antiquities Laboratory, at the Grand Egyptian Museum, said that the coffins of Khafat Al-Asasif were received inside the factory. Every five coffins are entered for restoration, and placed under sterilization, to eliminate the fungi in them.



The deputy head of the Wood Antiquities Factory explained, in exclusive statements to "The Seventh Day," that restoration work will begin on the first 5 coffins, within two weeks from now, and during the restoration work, 5 other coffins will be entered under sterilization work, to pass the same stages as the 5 coffins. First.

Dr. Ahmed Abd Rabbo said that the Wood Antiquities Factory is one of the most important laboratory in the Restoration Center in the Middle East. We specialize in restoring all kinds of wooden antiquities, "colored, gilded, decorated" with various inlays.


Dr. Ahmed Abd Rabbo explained that when the receipt of any piece is started inside the laboratory, we first begin the documentation work, using multispectral imaging. There is the normal imaging of the photographic piece, and there is ultraviolet imaging through which the places of the previous restorations are identified, and imaging In infrared rays, this works to clarify any places that did not appear to the naked eye, and there is X-ray imaging to know the technique of making the piece by the ancient Egyptian.

The deputy head of the Wood Antiquities Laboratory added that the process of examinations and analyzes is then carried out, and at this stage the use of advanced scientific devices is carried out, and through it we can know the components of the effect, without taking any samples, and through spectral analysis we can know the existing layers of preparation, decoration and coloring, and we can During the analyzes, we identify the previous restoration materials used before, and then we start with the experimental study, which is applied to a cloned sample with the same specification of the effect before applying it to the effect itself.

He pointed out: Then, it is determined whether the restoration is done with the used traditional materials or by using modern materials, and those studies take time to find the appropriate material in use, because after using that material, examinations and analyzes are repeated to find out the effect of the materials that were used in the restoration on the same effect, Then we begin to install the veneers and cement, and prepare for the museum display.