The Egyptian Museum of Editing receives its visitors again .. Have the antiquities finished their development?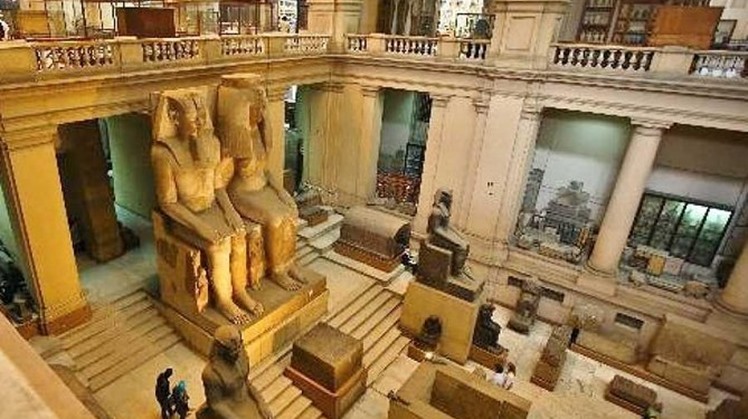 Tue, Jun. 30, 2020
The Ministry of Tourism and Antiquities continued the work of developing and restoring its archaeological sites without interruption even after the outbreak of the Corona virus emerging as Covid 19, but within the framework of applying all health and safety procedures among workers in the archaeological sites and museums, and among those sites is the Egyptian Museum of Liberation, which is to be reopened from New after a halt due to the Corona pandemic, so will the re-opening work be completed and the restoration and development work has ended? Therefore we contacted the head of the Central Department for Engineering Affairs, Projects of Antiquities and Museums, and we asked him a question.

Engineer Waed Abu El-Ela, Head of the Central Department for Engineering Affairs, Projects of Archeology and Museums, said that the work of developing the public site of the Egyptian Museum has been completed with editing, as the work continued during the last period continuously, and the work did not stop for one day, even after the spread of Corona virus, but it was The work is carried out within the framework of the necessary precautions to prevent further spread of the virus.

Eng. Waed Abu El-Ela, in exclusive statements to "The Seventh Day", that the development work was carried out in modern scientific methods recognized in the world, which is appropriate for the ancient Egyptian civilization and the history of the Egyptian Museum in silk, which includes a huge amount of ancient artifacts.

Sabah Abdel Razek, Director General of the Egyptian Museum, also pointed out that the scenario of the museum show has been completed in the first floor of the Egyptian Museum with editing, for prehistoric artifacts and the beginning of families, which exceed 200 artifacts, and will open in the next few months.