Egypt the only country in MENA to not witness economic recession over 2020-2021: Fitch Solutions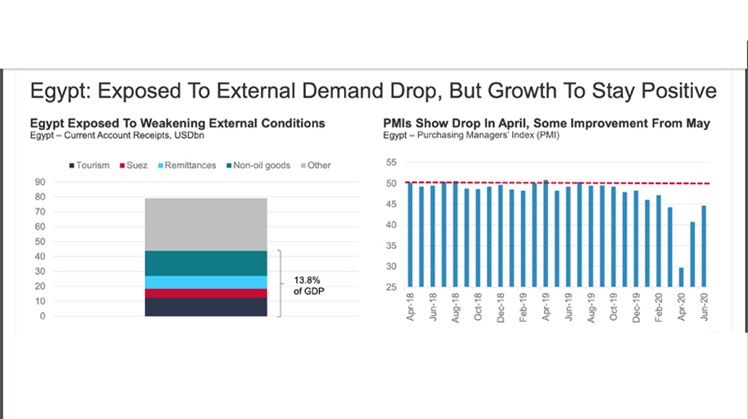 Tue, Jul. 7, 2020
CAIRO - 7 July 2020: Egypt is the only country in the MENA region that will not witness an economic recession over 2020 and 2021, head of MENA Country Risk at Fitch Solutions Andrine Skjelland told Ahram Online.

Skjelland made her comments during a webinar held by Fitch Solutions on Tuesday on the regional impact of COVID-19 and the prospects for economic recovery, according to Ahram Online website.

Skjelland said that Egypt entered the crisis with high growth buffers that have enabled it to deal positively with the crisis, and that the gradual lifting of the country's lockdown will help in its recovery process.

She added to Ahram Online that the two loans Egypt has obtained from the International Monetary Fund (IMF), under the rapid finance instrument (RFI) and the stand-by agreement (SBA), have contributed to such a forecast due to the dollar cash liquidity that the two loans have provided for Egypt's economy.

For the $5.2 billion SBA loan, Skjelland said that it will be positive for maintaining Egypt's economic reform program gains and supporting the country's macro stability.

Skjelland clarified that Egypt was among 15 countries in the region, out of 18 countries, that witnessed real GDP growth in 2019, at 5.6 percent. Although it is expected to slow down to 2.6 percent in 2020, it is predicted to rebound in 2021 to reach 3.9 percent.

Reviewing COVID-19's impacts on its macroeconomic performance, Skjelland said that Egypt is exposed to the COVID-19-induced drop in external demand, as tourism and remittances, Suez Canal receipts and non-oil goods exports play a big role in propping up the economy.

She added that social distancing measures have caused severe disruptions to local economic activity, but these are now gradually being eased.

Egypt's growth looks set to remain positive at 2.6 percent in 2020, reflecting a high growth buffer and favourable calendar effects, according to Skjelland.

For the MENA region's outlook, Skjelland said that regional purchasing manager indexes (PMIs) of the region's countries are beginning to bounce back, having hit record lows in March-April.

"While new output and orders continued to contract in June, the pace of decline was considerably less than in preceding months," she added.

"Optimism surrounding the business outlook for the next 12 months has improved markedly in the UAE and Egypt, while in Saudi Arabia and Lebanon, sentiment is still subdued," according to Skjelland.

Meanwhile, Skjelland said that employment indices still point to a rapid pace of job shedding, suggesting that private sector firms are continuing to face pressure on the margins.

She noted that Fitch Solutions' growth forecasts for MENA have been revised down across the board to -3.9 percent in 2020, down from 2 percent, adding that the COVID-19 outbreak will severely disrupt economic activity and trade across MENA, at least through the first half of 2020, while regional oil producers will also face fiscal pressures from lower oil prices, restricting governments' ability to spend and thus dragging on non-oil activity.

Skjelland stressed that Fitch's forecasts are subject to further downside, and in some cases upside, risks amid the uncertainty the COVID-19 crisis imposes.

For the global economy, Skjelland said that amid the COVID-19 crisis, Fitch expects the global economy to contract by 3.6 percent in 2020, which is mainly driven by developed markets, which look set to see output fall by 5.1 percent in 2020 due to weak fundamentals and low growth buffers.

Meanwhile, emerging markets will suffer as well, with output declining by around 1.5 percent and the worst of the economic dislocation will likely be felt in the second quarter, but will bounce back in the third and fourth quarter as lockdowns are eased, according to Skjelland.

"Based on this, recovery will be bumpy and uneven, and the global economy will remain vulnerable to additional shocks," she asserted.