Egypt desires to resume Ethiopian dam negotiations holding onto water rights fundamentals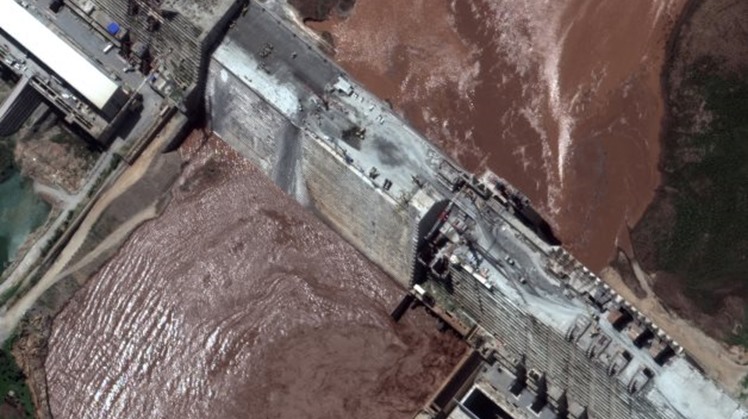 Thu, Mar. 25, 2021
CAIRO – 25 March 2021: Egypt's Minister of Irrigation and Water Resources Mohamed Abdel Aty asserted Wednesday Egypt's desire to resume the negotiations on the filling and operation of the Grand Ethiopian Renaissance Dam (GERD) while holding onto the fundamentals it adopts to preserve its water rights.



The minister's statements came in his speech while presiding over a seminar titled "The Water Future of Egypt: Opportunities and Challenges" jointly organized by Canada-Egypt Business Council and the Egyptian Business Council for International Cooperation.



The minister presented the updates on the issue stressing that the Ethiopian Dam and its impact on Nile water compose one of the biggest challenges faced by Egypt. That is particularly in light of the unilateral measures taken by Ethiopia in terms of reservoir filling and dam operation. Abdel Aty warned against the massive repercussions that will not be accepted by Egypt.



The minister underlined that Egypt supports development in fellow African states and Nile Basin countries. Examples of such support is embodied in building a number of dams that harvest rainwater; underground water treatment plants and supply networks powered by solar energy serving remote communities; flood management projects; river harbors; fisheries, and, cleaning canals.



That is in addition to contributing to the preparation of studies necessary to establish dams that would secure water and generate electricity as well as offering training and capacity-building opportunities to technical cadres in Nile Basin countries.



Abdel Aty pointed out that water challenges require Egypt to deploy efforts on both the governmental and societal levels. On one hand, the government shall implement a number of large projects in the sector. On the other hand, there is a need to raise people's awareness on water rationalization and preservation from pollution.



On the legislative level, Abdel Aty indicated that the House of Representatives is examining a draft bill on efficient water management, and elimination of water-related violations.



The Minister of Irrigation and Water Resources noted earlier in March in a statement that it had accomplished the lining of 1,188 kilometers of canals across Egypt.



Currently, the ministry is lining further 4,312 kilometers while allocations to line 1,452 kilometers have been endorsed so they would be offered to contractors in tenders soon.



The target for the first phase ending in 2022 and worth LE18 billion is lining 7,000 kilometers of canals.



The canal lining project is part of the National Project for Developing the Egyptian Countryside aimed at raising the quality of life of residents of rural areas. The lining of canals would enhance water management and distribution, ensure the delivery of water to the ends of canals, and inhibit pollution.



On another level, the ministry is encouraging farmers to substitute modern irrigation systems for flood irrigation in order to rationalize water use. Modern irrigation systems have been introduced in 230,000 feddans and will be introduced in further 55,000 feddans as requested by agricultural land owners.



The ministry attributes demand by farmers on modern irrigation systems to the desire of lowering costs, and improving the productivity and quality of crops.