President Sisi: Egypt proceeds with efforts to support means of sustaining peace in Africa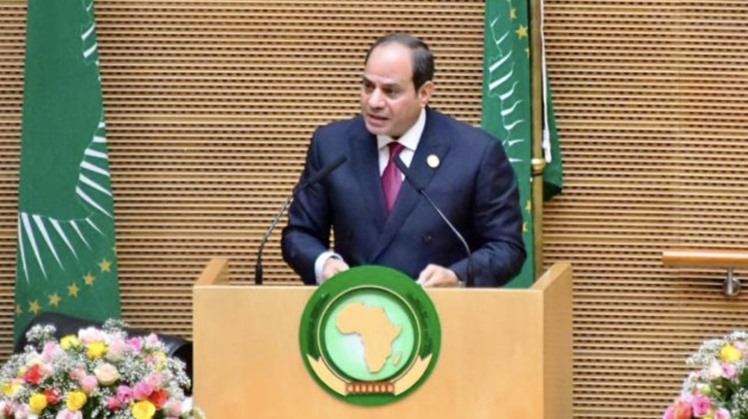 Tue, Nov. 22, 2022
President Abdel-Fattah El-Sisi affirmed on Monday that Egypt continues its efforts that aims at supporting means of sustaining peace and establishing stability in African countries in coordination with African heads of states and governments.

Sisi made the remarks as he marked the African Union Post-Conflict Reconstruction and Development (PCRD) Awareness Week.

The president also called on African countries to include the pillars of reconstruction and development policy in their economic plans in line with the goals of Agenda 2063.

The president highlighted the importance that Egypt attaches to the reconstruction issue, including by hosting the African Union Center for Post-conflict Reconstruction and Development (PCRD) as one of the main tools that come within the framework of African peace and security infrastructure.

In this regard, Sisi stressed Egypt's aspiration for the AU Commission to expedite taking immediate measures to activate the work of the center so that it can perform its role especially amid challenges in the continent.

The 2022 PCRD Week is held under the theme: "Repositioning Post-Conflict Reconstruction and Development in Africa" with the motto of "Greater Awareness and Sustained Peacebuilding".

President Sisi said the celebration of the second PCRD sheds light on the importance that the African countries attach to the important file of reconstruction.

"This edition (PCRD) coincides with a surge in challenges and crises at the regional and international levels, which highlights the importance of strengthening our joint efforts to implement the axes of the policy of reconstruction and development in countries that have witnessed conflicts," Sisi said.

He added that this should be carried out by using various tools, on top of which is supporting national institutions, strengthening the foundations of good governance, and developing sustainable peace ways in a way that prevents slipping into conflicts.