UN Resident Coordinator in Cairo hails presidency initiative Decent Life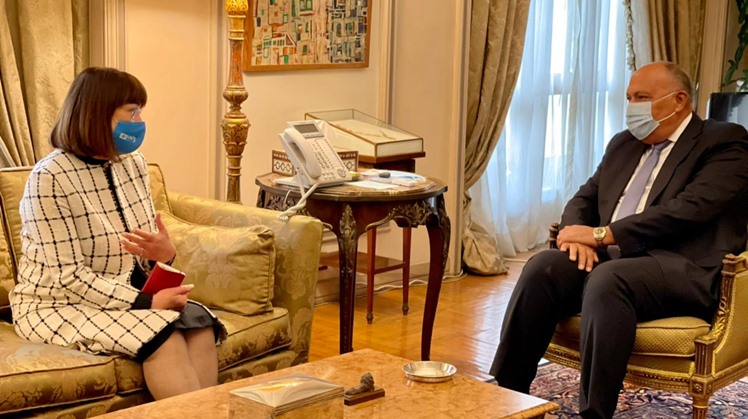 Thu, Mar. 18, 2021
CAIRO – 17 March 2021: United Nations Resident Coordinator in Cairo Elena Banova hailed on Wednesday the presidency initiative Hayaa Karema [Decent Life] that was launched 2019 to develop the Egyptian countryside.

During meeting with Egyptian Prime Minister Moustafa Madboli, Benova said she is looking forward to promoting cooperation between the UN and Egypt which is a pivotal state in the Middle East and Africa.

She hailed the progress which Egypt realized in attaining the economic reform program, expounding that this program helped the Egyptian economy to response effectively to the coronavirus repercussions.

She said that Egypt is the sole country in the Middle East and North Africa that achieved a positive growth rate.

She also commended measures adopted by the government to face coronavirus.

Madboli stressed that Egypt is looking forward to promoting ties with the United Nations and all its affiliated agencies to serve development agenda which Egypt adopts.

He referred to top priority files for Egypt, including a structural reform program which the government will announce soon. PM added that Egypt seeks to enhance new and renewable energy resources, transportation projects, water desalination, and digital transportation.

The premier also reviewed during the meeting the national project for developing Egyptian villages which will be implemented within the coming three years in line with directives of President Sisi.

He said this project has an unprecedented importance for improving the quality of life of 58 million people.

Earlier in February, The United Nations praised Egypt's "Decent Life" initiative, saying that it contributed to mitigating the negative impacts of the Covid-19 pandemic through improving the standards of living conditions of the needy groups.

In a report, the UN said the initiative has also provided job opportunities through supporting small and medium sized enterprises (SMEs).

It added the goals of the initiative are to be achieved through providing decent housing, water and sanitation for deprived families, and medical and educational services, establishing micro-projects for those most in need and providing in-kind support periodically to most in need families.

Decent Life initiative is an initiative endorsed by President Abdel Fattah al Sisi, with the main objective of improving the quality of life in the poorest rural communities within the framework of the Sustainable Development Strategy: Egypt Vision 2030, through decreasing multidimensional poverty and unemployment rates.

The initiative has four pillars: first: improving living-standards and investing in human capital; second: developing infrastructure services; third: raising the quality of human development services; fourth: economic development.

The initiative provides poorest villages with increased access to the basic services such as health, education, water and sanitation, it said.