Egyptian, Moroccan FMs discuss efforts to push for political settlement in Libya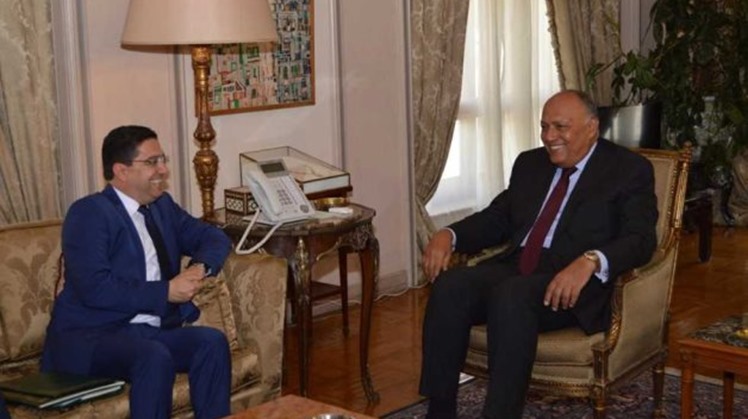 Tue, Sep. 8, 2020
CAIRO – 8 September 2020: Egyptian Foreign Minister Sameh Shoukry and his Moroccan counterpart, Nasser Bourita, discussed developments in the Libyan issue, in light of the country's coordination and joint efforts to push for political settlement, the Egyptian Foreign Ministry said in a statement.



As they made a phone call on Monday, Shoukry affirmed Egypt's fixed stance backing efforts to reach a political solution that aims at preserving the sovereignty and unity of Libya, meeting the aspiration of Libyan people toward achieving security and stability and securing people's resources.



Shoukry also stressed that a political solution would contribute to combating all forms of terrorism, extremism and destructive foreign interference. He added that such stance is reflected in the Cairo Declaration announced by Egypt's President Abdel Fattah El Sisi in June and Egypt's welcoming of the de-escalation initiatives.



Shoukry and Bourita also discussed current efforts to maintain the ceasefire recently announced by the conflicting parties in the war-torn country and proceed with comprehensive political settlement.



Sisi in August welcomed a cease-fire initiative declared by Libyan Speaker of the House of Representatives Aguila Saleh and head of the Presidency Council Fayez Al-Sarraj, as a way for the departure of all mercenaries in Libya.



"I welcome all statements issued by the Presidential Council and the House of Representatives in Libya to reach a ceasefire and stop military operations in all Libyan territories, as this is an important step on the road to achieving a political settlement and the aspirations of the Libyan people to restore stability and prosperity in Libya," Sisi tweeted.



Meeting with Josep Borrell, the European Union's high representative for foreign affairs, on Thursday, Sisi affirmed that Egypt welcomes all constructive and positive steps that would lead to peaceful settlement, de-escalation and development in Libya.



He also stressed Egypt's support to international efforts in this regard, including backing all international envoys to Libya, relevant international conferences such as the Berlin Conference earlier this year and the Cairo Declaration calling for ceasefire and dismissing foreign fighters from Libya.



Borrell highlighted the importance the EU attaches to Egypt's pivotal role aiming to achieve balance in the Libyan issue. He also lauded Egyptian efforts to tackle regional challenges that affect the security and stability of the countries of the Mediterranean, including hosting millions of refugees, combating illegal immigration, terrorism and extremism and bringing peace to the Middle East.