Ancient Egyptian civilization under the light of foreign sites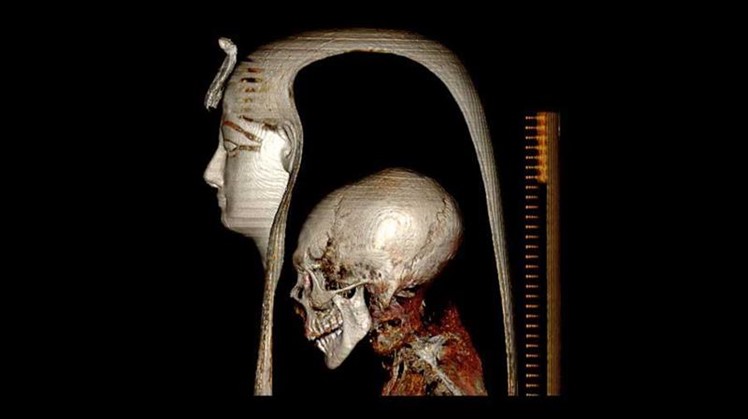 Sun, Jan. 22, 2023
Archaeological discoveries in Egypt caught the attention of international sites, and they referred to it on more than one occasion. In this report, we mention a group of the most interesting discoveries to the world.

Unveiling the secrets of the mummy of Amenhotep the First
First discovered in 1881, it was never dismantled because it was thought to be too beautiful to destroy. For more than a hundred years, Egyptologists have been desperate to get a glimpse of Amenhotep's face. This year, thanks to the use of non-invasive CT scans, they were finally able to see inside the mummy of Amenhotep.

The team, which was based at Cairo University, was amazed at how similar the mummy was to his father, Ahmose. The CT scans used allowed the team to see how Amenhotep looked alive, and not just a piece of dried meat, according to the ancient history website.

Amenhotep was originally found in a cache of mummies that were collected, rewrapped and reburied in the 21st Dynasty after tomb robbers destroyed them. The scans show the extent of the damage to Amenhotep, and how much interest the priests of the 21st Dynasty took in repairing his mummy.

Also this year were found two statues of the Sphinx of Amenhotep III in western Luxor, his neck was broken when the thieves tore off the necklace and the priests carefully re-attached his head with a band of resin-treated linen. They also repaired his broken left arm, covered a hole in his stomach, and added new golden amulets.

Discover the tomb of Queen Neith
Ancient Egypt may be one of the most widely studied periods in human history, but what many people don't realize is that we still have huge gaps in our knowledge when it comes to ancient Egypt. Ancient Egyptian civilization lasted for more than 3,000 years and there are periods Long period of time where we have voids.

In November 2022, the tomb of Queen Neith was found in the ancient necropolis of Saqqara, and a pyramid previously containing 300 sarcophagi and 100 mummies was discovered in addition to a series of interconnected tunnels, what made this discovery very exciting is that archaeologists had no idea about Neith's identity when been discovered.

They soon discovered that her name was Neith and that she was completely missing from the historical record, and as Zahi Hawass, an Egyptologist working on the site, said, "It's amazing that we can rewrite what we know about history, adding a new queen to our records."