The conclusion of the International Festival of Drums and Traditional Arts in the Citadel.. Friday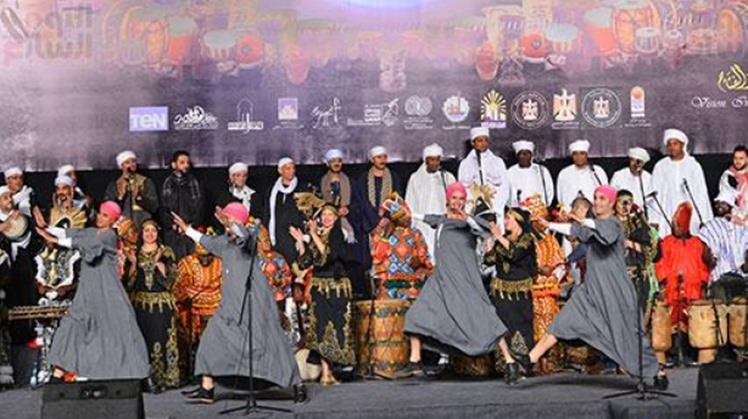 Thu, Jun. 17, 2021
The activities of the International Festival of Drums and Heritage Arts in its eighth session, headed by the artist Intisar Abdel-Fattah, president and founder of the festival, will conclude next Friday, June 18, at the Bir Youssef Theater in the Citadel at exactly eight o'clock in the evening under the slogan "Dialogue of Drums for Peace". Sudan is the guest of honor of the festival.

This festival will witness the distinguished participation of 30 bands from countries "Colombia - Philippines - Indonesia - Sudan - South Sudan - Bangladesh - Pakistan - Yemen - Democratic Republic of Congo - Palestine", in addition to Egypt, Syria and some foreign communities residing in Egypt to present the heritage and arts of their countries, in addition to Establishing an international art workshop, in which all teams participate in a wonderful artistic dialogue that brings together all cultures of peoples, with the participation of the audience in cosmic music and a dialogue of drums for peace, led by the festival president, artist Intisar Abdel Fattah.

The festival is held by the Ministry of Culture and its sectors represented by the foreign cultural relations sector headed by Sabri Saeed, the Supreme Council of Culture headed by Dr. Hisham Azmy, Secretary General of the Council, Cultural Development Fund headed by Dr. Fathi Abdel Wahab, and the cultural production sector headed by artist Khaled Galal, and the Foundation for Dialogue and Arts of People's Cultures, in cooperation with the Ministry of Antiquities and Tourism, Tourist Activation, the Ministry of Youth and Sports, Cairo Governorate, the National Bank and Banque Misr.

The festival honors the State of the Philippines on the occasion of the 75th anniversary of diplomatic relations, and from Egypt, the great artist "Ismat Dawstashi" and the artist "Mahasin El-Helou", from Sudan, "the artist Abdelkader Salem", from Senegal, "the artist Dodondai Rose", and the festival also honors Babatunde or Latonji "American Nigerian", and from Colombia "Tutulamombusina", the festival was a great success at the public and media level, throughout the days of the festival.