Egypt, UNDP discuss enhancing cooperation in light of COVID-19 pandemic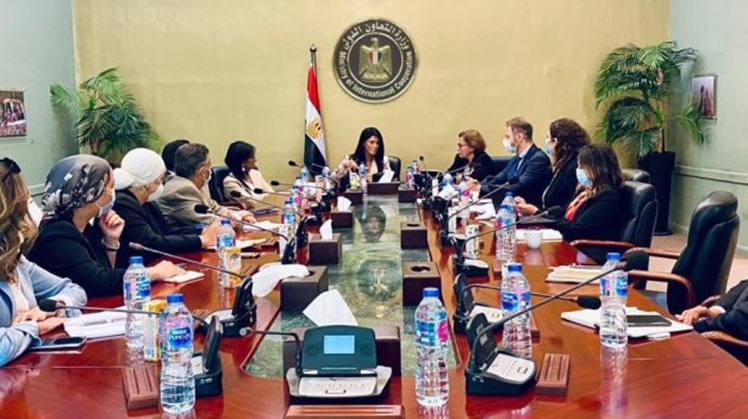 Thu, Sep. 10, 2020
CAIRO – 10 September 2020: Egypt's Minister of International Cooperation Rania Al-Mashat discussed fostering partnership between the African country and the United Nations, as she met with Randa Abul-Hassan, Resident Representative for the UN Development Program (UNDP).



The meeting aims to accelerate progress in achieving the 17 United Nations Sustainable goals, particularly in light of the COVID-19 pandemic, said a statement by the ministry.



Ambassador Lamia Mukhaimer, Director of International Cooperation for Development at the Ministry of Foreign Affairs attended the meeting.



The meeting comes within Egypt's framework of partnership with the United Nations for 2018-2022, which is composed of four outcomes: namely inclusive economic development, social justice, women's empowerment and sustainable management of natural resources.



Al Mashat noted that the partnership framework with the United Nations until 2022 was designed through inclusive engagement of different stakeholders in society, including ministries, United Nations agencies, civil society organizations and the private sector, ensuring that all development efforts are harmonized and streamlined.



The minister also shed light on the development initiatives that during the pandemic, which focused on protecting citizens from the virus, accelerating the pace of digital transformation, supporting medium, small and micro enterprises, and supporting the national strategy for the empowerment of women.



For her part, Randa Abul-Hassan, Resident Representative of the United Nations Development Program, reviewed the cooperation file with the Egyptian government in several areas, including the comprehensive response to the economic and social repercussions of the pandemic.



She explained that the United Nations Development Program (UNDP) will work to strengthen institutional frameworks and partnership, through development solutions that reduce poverty by promoting decent work, increasing resilience to climate and health risks, and empowering women.



Abu Al-Hassan noted that the total number of ongoing projects of the United Nations Development Program in Egypt are 50 projects in more than 20 governorates, with 60 million dollars allocated in 2019 for these projects. The current year budget amounts to 66 million US dollars, in which one million dollars were allocated to support the response to the COVID-19 pandemic in Egypt.