Egypt's FM discusses situation in Syria with UN special envoy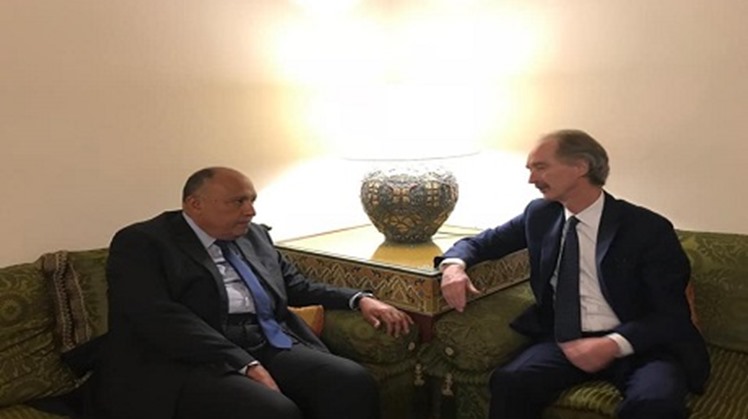 Thu, Mar. 5, 2020
CAIRO - 5 March 2020: Egypt's Foreign Minister Sameh Shoukry affirmed Cairo's keenness on supporting efforts to settle the Syrian crisis and assisting the political process in accordance with United Nations Security Council resolution 2254.

This came during a meeting on Wednesday between Shoukry and UN Special Envoy to Syria Geir Pedersen on the sidelines of the Arab League's 153th ministerial council meetings, which kicked off in Cairo on Wednesday, according to Ahram Online Website.

Egypt's foreign ministry spokesperson Ahmed Hafez said that the Egyptian FM reviewed Egypt's stance regarding the developments in Syria, noting the importance of continuing the efforts of the UN envoy.

"The Egyptian foreign minister stressed the need to work on combating terrorism and extremist organisations in Syria and to address the risk of foreign militants travelling to Libya, stressing the importance of the UN and all entitled parties playing their part in this regard," Hafez said.

The UN envoy reviewed with the Egyptian minister the outcome of his recent efforts and communications with the aim of pushing a peaceful settlement in Syria and his vision regarding future steps.

Pedersen expressed his appreciation for Egypt's support of his efforts and praised Egypt's balanced role in communicating with various Syrian factions and regional parties in order to bring closer the viewpoints regarding the Syrian crisis.