Sisi discusses bilateral ties with US President on sidelines of the G7 summit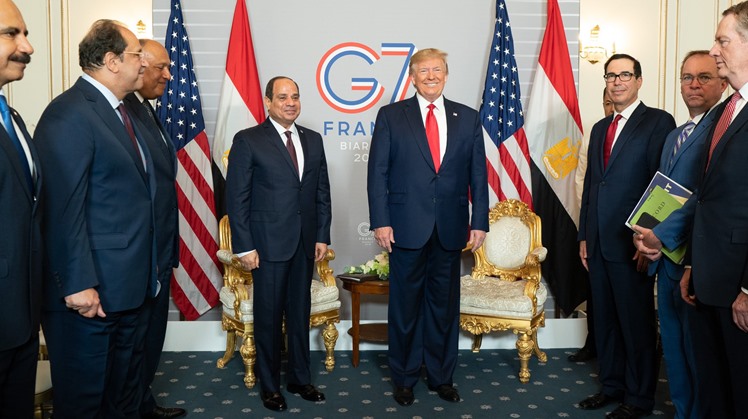 Mon, Aug. 26, 2019
CAIRO - 26 August 2019: Egypt's President Abdel Fatah al-Sisi discussed on Monday bilateral ties with US President Donald Trump in a meeting on the sidelines of the G7 summit held in France.

During the meeting, President Sisi asserted the strong and profound strategic relations between the two countries and lauded continued progress during the Trump administration.

He added that Egypt is keen to continue promoting cooperation frameworks across all fields and continuing coordination and consultation with the US administration on ways to reinforce peace and stability in the Middle East, in light of the crises that the region is facing, said Presidential spokesman Bassam Radi.

The president lauded strategic relations binding Egypt with the US and the positive development of relations between the two countries under Trump administration.

On his part, Trump expressed appreciation for the security, stability and development Egypt achieved under the leadership of Sisi despite volatile regional developments and challenges.

He said the US is looking forward to developing cooperation with Egypt at all levels, referring to Egypt's success in carrying out economic reforms and boosting the overall development process.

He said the US is keen on increasing trade exchange with Egypt and joint investments.

Trump lauded Egypt's pivotal role in the Middle East region and its efforts in combating terrorism and cementing foundations of peace and stability in the region.

He also expressed support of Sisi's efforts to enhance principles of freedom of worship and religious tolerance.

The two presidents discussed regional and international developments, including the Palestinian case. President El Sisi confirmed Egypt's support for all sincere efforts that seek to find a just and comprehensive solution to the Palestinian case based on international references and resolutions so as to restore stability and open new horizons.

The two presidents agreed on the importance of reaching political solutions to the crises in Libya and Syria.