Sisi receives head of US Apache Corporation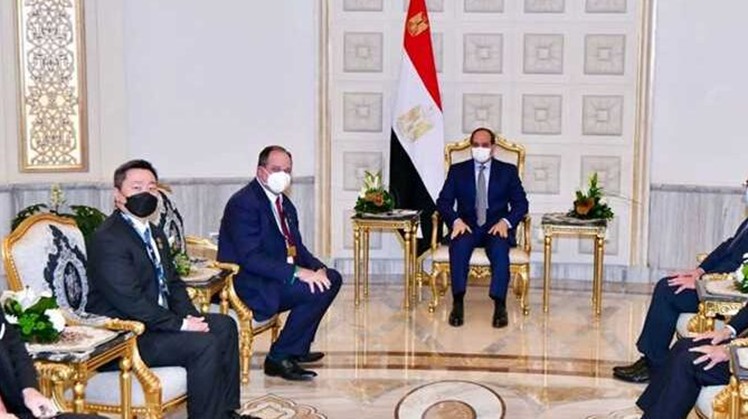 Tue, Feb. 15, 2022
CAIRO - 15 February 2022: Egypt's President Abdel Fattah El Sisi asserted the country's appreciation the volume of activities and investments of US Apache Corporation, which is mainly contributing to gas and oil exploration and production in Egypt.

Such investments are supporting the oil sector in Egypt and helping in the country's endeavors to become a regional hub for energy production and circulation in eastern the Mediterranean Sea, added Sisi.

Sisi's remarks were made while meeting John Christman, the Chairman of the Board of Directors of Apache, which is specialized in the field of petroleum research and exploration, in the presence of Minister of Petroleum and Mineral Resources Tarek El Molla and a number of senior officials of the company on Monday.

The talks were held on the sidelines of the Egyptian Petroleum Show (EGYPS 2022).

Sisi asserted Egypt is looking forward to boosting the company's investments in the country as part of deep cooperation and long-running strategic partnership between Egypt and the US.

Presidential Spokesman Bassam Radi said the meeting discussed ways of developing cooperation with Apache, which is the largest oil producer in Egypt, as well as reviewing the company's existing business position and its targeted investment plans during the coming years in the fields of research, exploration and production in Egypt.

In turn, Christman said Egypt and Apache have a vital and strategic partnership , adding the US is very keen on developing it, according to the spokesman.

Christman commended economic growth and tangible development in Egypt under the wise leadership of president Sisi, in addition to progress made by the country in the energy field and the State's infrastructure in general and the petroleum's infrastructure in particular as well as ongoing regional cooperation projects.