Japan's economy min. stresses his country's willing to enhance cooperation with Egypt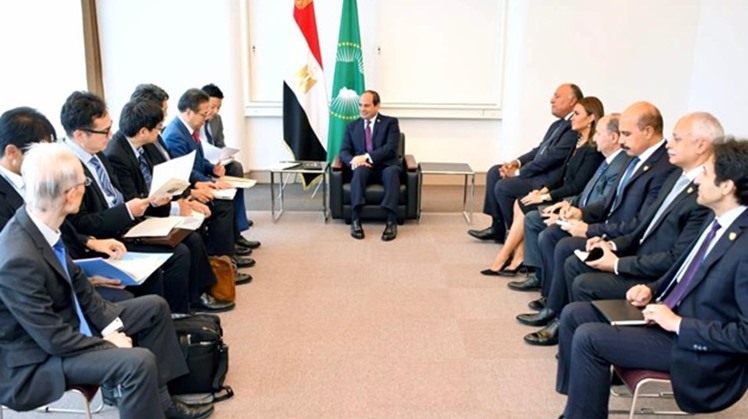 Thu, Aug. 29, 2019
CAIRO - 29 August 2019: Egyptian President Abdel Fattah al-Sisi held a meeting on Thursday with Japanese Minister of Economy, Trade and Industry Hiroshige Seko, in Yokohama, during the president's official visit to Japan.

The Japanese minister has stressed his country's interest in enhancing cooperation between the two sides and provide advanced technology to Egypt in all fields, presidential spokesman Bassam Radi said.

Seko also affirmed his country's keenness to encourage Japanese companies to work and invest in Egypt to contribute to the comprehensive development process taking place, especially in light of the positive economic developments that Egypt has witnessed recently.

During the meeting, President Sisi expressed his appreciation for the efforts of the Japanese Ministry of Economy, Trade and Industry in enhancing economic and trade relations between the two countries, besides their support to build the capacities of Egyptian institutions working in the fields of industry and foreign trade.

Sisi referred to the promising investment opportunities for Japanese investors in Egypt in various sectors, especially the giant national projects, saying that Egypt looks forward to partnering with Japan in the Egyptian national project concerning vehicles running on natural gas, and also in the field of renewable energy.


The Japanese minister, for his part, praised the measures taken by Egypt to attract and grow foreign direct investments, referring to the role of his ministry in encouraging Japanese companies to work and invest in Egypt.

Seko also expressed his keenness to continue work and coordination during the coming period with the relevant Egyptian government authorities in Egypt to enhance economic cooperation between the two countries.

Trade exchange between Egypt and Japan recorded $1.2 billion during 2018, Minister of Trade and Industry Amr Nassar said on Tuesday, August 27.

Nassar added in a statement that Japanese investments in the Egyptian market hit around $700 million during 2018.

Egypt and Japan already have a "successful implemented experience" regarding educational cooperation, according to Japan International Cooperation Agency's Egypt Office Chief Representative, Yoshifumi Omura, during an interview with Business Today.

Nearly 100 schools are to be opened during the several coming years. Some 35 schools have already opened their doors and received Egyptian students for the academic year 2018/2019. Five more schools are expected to open during the next year.
Also, the Egyptian-Japanese cooperation in The Egyptian Grand Museum (GEM) project was one of the most successful models for cooperation between Egypt and Japan. The museum will help create more job opportunities inside the Egyptian market, according to TAKESHITA. Also, it will help promote tourism, which is one of Egypt's main economic resources.

The cooperation between Japan and Egypt even extended to the medical sector, agriculture, transportation and infrastructure. In total, JICA has provided around a $1.5 billion grant aid, and financed 42 projects with ODA loan, which accumulates nearly $6.5 billion. Technical cooperation amounted to around $800 million.