President Sisi issues 7 Instructions to the government on women's rights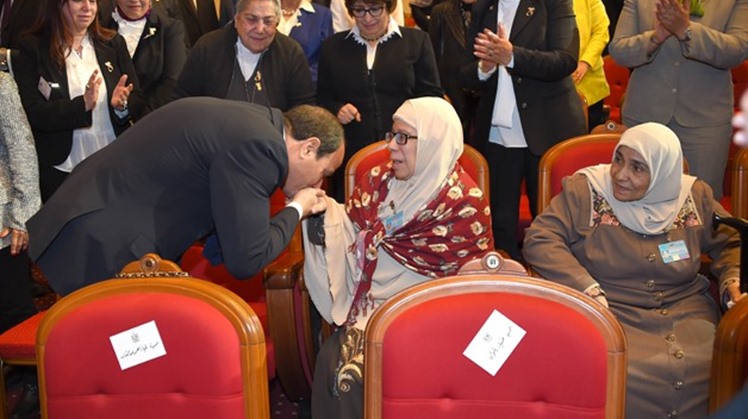 Sun, Mar. 31, 2019
During the yearly celebration of Egyptian women and Role Model Mothers of 2019, his excellency President Abdel Fatah el Sisi announces various decisions to women agenda in Egypt, from women's participation in the labor market, to violence against women, to women in debt…the decisions covered crucial topics related to women in Egypt.

First, to study ways to achieve greater participation for women in the labor market and provide an appropriate and supportive environment for them, appropriate social protection, to encourage the shift from the informal sector to the formal sector and non- traditional sectors in which their ambitions are realized.

Secondly, as I salute the government's adoption of a national strategy to combat violence against women, I request to put in place the appropriate legislation aimed at protecting women effectively from all forms of psychological and physical violence, bearing in mind that early marriage before the legal age, and denying an appropriate amount of money for her and her children in case of divorce, are all forms of violence.

Thirdly: The government should conduct a deeper and more comprehensive study of the phenomenon of women in debt, and formulate legislations and policies that would reduce this phenomenon because of its implications for the Egyptian family.

Fourth: In the light of the previous instructions to draft a family awareness program to prepare youth for the responsibilities of marriage, I look forward to the effective and positive implementation of "Mawada" program, which will bring about the stability of the family and preserve the rights of both spouses; along with studying the issuance of a new personal status law.

Fifth: I call upon the government to take the necessary measures to achieve financial inclusion, technological empowerment of women and provide more support for small projects that offer work opportunities for women.

Sixth: In light of our pride in the representation and role of women in parliament and in the government, which is the highest in the history of Egypt, I call for greater political participation and greater engagement in various sectors. Egypt is in the process of building its renaissance, and it is in need of the efforts of its daughters, side by side with its sons.

Seventh: I call on the government to study the amendment of the Public Service Law, to become a tool for training and qualifying Egyptian girls to join the labor market, besides developing the necessary mechanisms and incentives to achieve this.