Egypt's FM reviews GERD latest development with British counterpart in phone call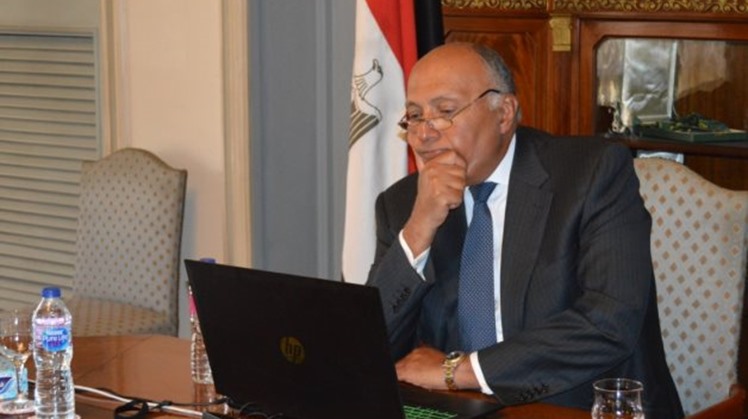 Tue, Jul. 7, 2020
CAIRO – 7 July 2020: Egypt's Minister of Foreign Affairs Sameh Shoukry discussed with his British counterpart Dominic Raab, Tuesday the latest development regarding the Grand Ethiopian Renaissance Dam (GERD), along with other issues of mutual interest between the two countries.

During a phone call, Shoukry stressed the need to reach a comprehensive, fair and balanced agreement between the three countries 'Egypt, Sudan and Ethiopia' on filling and operating the dam, while refraining from any unilateral action before concluding the agreement, in a manner that takes into account the interests of all parties.

Spokesman for the Foreign Ministry, Ahmed Hafez, stated that Shoukry praised during the call the positive developments witnessed between the two countries during the past years. He noted that Egypt prioritize its relation with Britain and aiming to work on these relations even more in the future on all levels of cooperation.

The two minsters also discussed the latest updates regarding Coronavirus, COVID-19 and measures to confront it on the social and economic levels.

The two ministers exchanged views regarding the situation in the region, especially the latest developments on the Palestinian scene, as Shoukry stressed the importance of reaching a fair and comprehensive peace agreement on the basis of a two-state solution; Hafez explained.

Shoukry and Raab also discussed the Libyan political crises, as Egypt's Shoukry stressed the seriousness of any illegal foreign interference, noting the need to contain the crisis and work towards a comprehensive political solution that guarantees the restoration of Libya as a united country and its institutions.

Coordination between Cairo and London will be continued during the coming period on all levels regarding the issued of mutual interest as agreed between Shoury and Raab during the call.

Earlier, Tuesday, Shoukry said that Egypt is counting on Chinese support to the Arab League (AL) stances regarding the Libyan crisis and the issue of the controversial Grand Ethiopian Renaissance Dam (GERD).

In his speech at the 9th Session of the China-Arab States Cooperation Forum at the Ministerial Level, Shoukry called for the importance of enhancing cooperation amid the current crisis of the novel coronavirus (COVID-19) pandemic, according to a statement from the Egyptian Foreign Ministry.

The Foreign Minister discussed the political and security instability in the Middle East, including foreign interventions of regional powers aiming to extend their influence and impose their control on a number of Arab countries, the statement added.

Regarding the Palestinian cause, Shoukry praised the Chinese support to the Palestinian people and to the Egyptian stance towards the Palestinian-Israeli cause as the Palestinian people have the right to establish their own statehood on the borders of 1967.

On June 22, the emergency Arab League meeting requested by Egypt on Libya condemned all sorts of foreign intervention in Libya warning against the longevity of the ongoing conflict.