FM Shoukry, Kerry discuss Egypt-US cooperation in facing climate change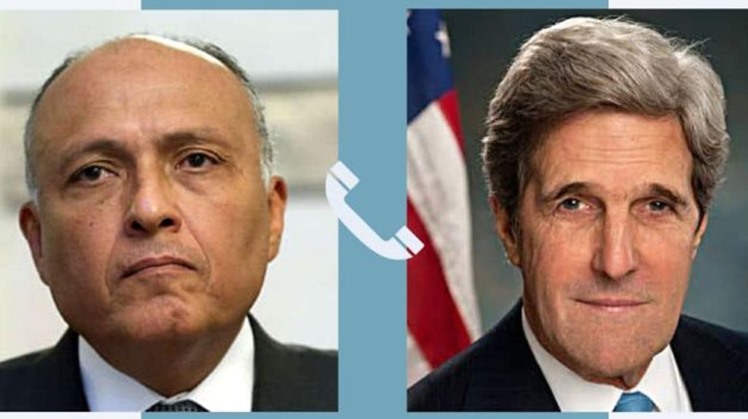 Sat, Jun. 18, 2022
CAIRO – 18 June 2022: Egypt's Foreign Minister Sameh Shoukry and US Climate Envoy John Kerry reviewed on Thursday the ongoing cooperation and coordination between Egypt and the US in the field of facing climate change.

Shoukry, also president-designate of the UN Climate Change Conference (COP27), and Kerry also consulted in a phone call on the most prominent issues related to the global climate work, the Egyptian Ministry of Foreign Affairs said in a statement.

Shoukry hailed the ongoing cooperation between Egypt and the US in the fields of climate change, clean energy, and green transition, expressing hope for the high-level US participation in the activities of COP27, which Egypt hosts in November in Sharm El-Sheikh city.

Shoukry was also keen to review with Kerry the results of his recent visit to the German city of Bonn earlier this month to attend the 56th session of the UN climate change subsidiary bodies.

During his Bonn visit, Shoukry he met with many officials from various countries, groups and parties concerned with international climate action, including the civil society.

Shoukry highlighted to Kerry the importance that the positive political will expressed by all countries be reflected in the technical negotiations on various issues, thus contributing to enhancing confidence between the various parties to the climate negotiations.

The top Egyptian diplomat stressed the priority that Egypt attaches to issues of adaptation to climate change, including supporting adaptation efforts in Africa and the efforts of mitigating the negative repercussions of climate change and addressing losses and damages.

This is in addition to the importance of providing climate finance, especially for developing countries, Shoukry added.

During his Bonn visit last week, Shoukry and the Executive Secretary of the United Nations Framework Convention on Climate Change (UNFCCC) Patricia Espinosa Cantellano signed the Host Country Agreement for COP27 to be held from 6 to 18 November 2022.

On the sidelines of the Bonn meeting, Shoukry met with members of the Group of 77 (G77) and China, of which Egypt is also a member, to highlight the vital role the group plays in advancing the interests and concerns of developing countries in the climate change negotiations.

Shoukry also affirmed during the visit Egypt's keenness to put the African climate change concerns at the forefront of the topics the session will address.