The launch of the exhibition of creativity of golden fingers for people with special needs at the Future Library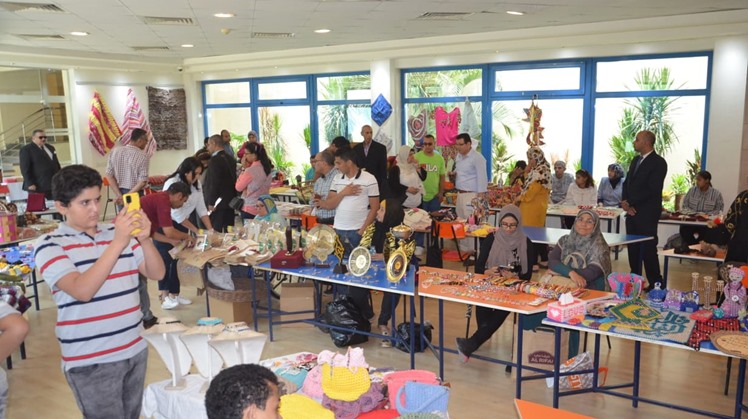 Fri, Jul. 1, 2022
The Future Library hosted this morning an exhibition of handicrafts formulated by people with special needs entitled "Creativity of Golden Fingers", where the exhibits included many works of art, handicrafts, carpets, beadwork, crochet and wood by the hands of talented people with different disabilities, in which fabrics, wood and other materials of multiple nature were used, to transform them To new products and innovative antiques, which can be acquired as gifts or used in decoration and modern home décor, in the presence of senior officials of the association and a number of specialists, interested parties and parents.

Dr. Nabil Helmy, President of the Heliopolis Association, said that hosting the exhibition comes to encourage and support people with special needs to produce by relying on themselves, developing their academic and technical capabilities, and supporting them mentally and psychologically by providing the opportunity to prove their presence, and to contribute to the success of the activities of institutions that incubate these innovations.

He praised the role played by the state in taking responsibility for preparing and implementing all programs and projects related to training and rehabilitation for people with special needs, as well as sponsoring and supporting exhibitions and events that highlight their products and creativity to society, and helping them move from the stage of care to empowerment as one of the gains of the June 30 revolution.

For her part, Dr. Hayat Khattab, a member of the Senate and Secretary-General of the Heliopolis Society, said that the exhibition was well received by visitors who expressed their admiration for the exhibits, creations and artistic forms that were transformed by the skilled hands of people with special needs into tools that suit the needs of modern life, and in an attractive manner. And through new and innovative ideas, taking advantage of the various materials of nature, especially that these products, artifacts, antiques, utensils and traditional crafts, can be used for the purposes of decoration and home decoration.