2021 Witnessed: "Tourism and Antiquities" initiatives in 2021 to raise tourism awareness and train more than 24,000 in the sector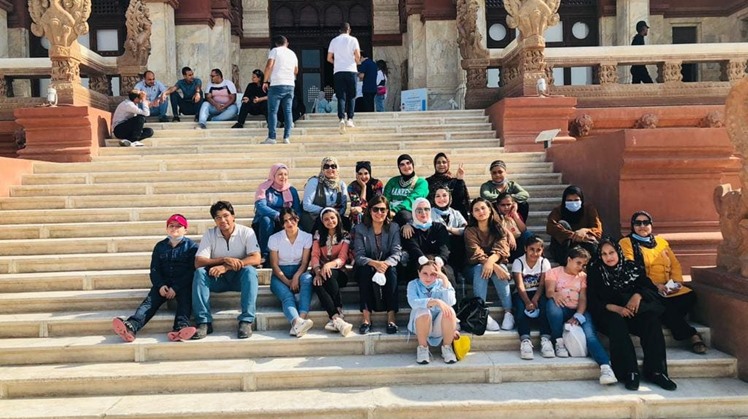 Tue, Dec. 28, 2021
In its sustainable development strategy 2030, the Ministry of Tourism and Antiquities focused on human cadres, training and raising tourism awareness in order to enhance Egypt's leadership as a major modern and sustainable tourist destination that contributes to strengthening the country's national economy.



Amending the contractual form of 4246 contractors in the Supreme Council of Antiquities, moving from Chapter Six and the wage-for-work clause to Chapter One wages in the Council's budget, in preparation for fixation on permanent financial grades.

5,791 employees of the Supreme Council of Antiquities were directly promoted to higher job levels.

Assignment of the first permanent undersecretary of the ministry from the children of the ministry.

Two ministerial decisions were issued to enroll two sons of the General Authority for Tourist Activation in the post of a tourist attache in the authority's offices in Berlin and London (the last decisions to attach to foreign offices were issued in 2017). The tourism attaché was received at the Berlin office on September 3, 2021, and in London on September 30.



Training and raising the efficiency of the human element in the ministry and the sector


Training about 24,723 workers in the tourism sector and the ministry in several areas, including health and food safety, quality inspection of services, food and beverages, environmental awareness, internal supervision, front office work for hotel facilities, crisis management, optimal investment of resources to recover from crises, and museum interpretation. Management of heritage sites, sustainable tourism, modern marketing trends, in addition to training tour guides, bazaar owners, and animal owners in the pyramids and other archaeological sites (Tourism Ambassadors Program).


Raising tourism and archaeological awareness



Launching and organizing a set of initiatives, programmes, competitions and training courses to raise tourism and archaeological awareness, especially among children and school students, including, for example:

Art Insight Program

"Your effects are your right to know" program

"Our Story" initiative, in cooperation with the Ministry of Education and Technical Education

The "Kings of the Procession" program on the sidelines of the procession of the transfer of the royal mummies

Art competition for children's drawings on the occasion of the celebration of World Heritage Day

Soura wa Fazoura competition for children under 12 years old

A virtual workshop for teaching hieroglyphs to children through the Zoom program; In addition to organizing a group of visits to the Baron Palace, the Manasterly Palace in Manial, the National Museum of Egyptian Civilization, and organizing trips to museums and archaeological sites for homeless children.

Organizing awareness-raising workshops and monitoring needs to rehabilitate the human element in local communities in Historic Cairo and Luxor Governorate.

Organizing 80 awareness seminars in various governorates of the Republic to introduce the ethics of tourism, the elements of tourism, and the recent archaeological discoveries.

Organizing 100 reciprocal awareness trips between the governorates, including different groups (school and university students, orphans with determination, breadwinner women, the White Army...).