Earth Sky: Egyptologists unearth a 3,000-year-old 'lost golden city'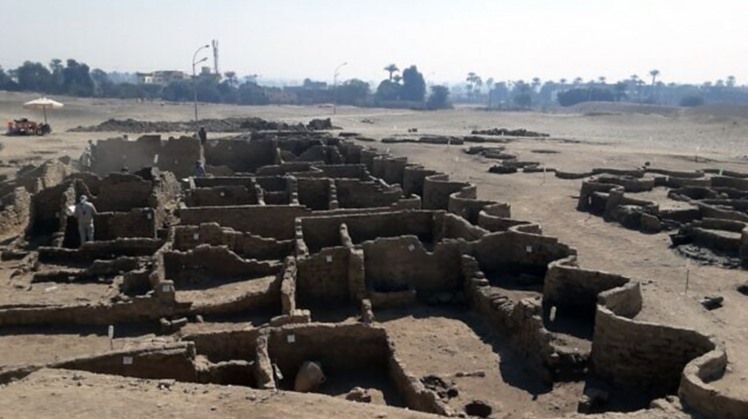 Mon, May. 3, 2021
The long-sought "lost golden city" of Aten has been found near Luxor, Egypt, in the Valley of Kings. "The mission expects to uncover untouched tombs filled with treasures," the scientists said.


Archeologists in Egypt have announced a "lost golden city," reportedly unearthed near the southern city of Luxor, Egypt, in the region of the Valley of the Kings. The archaeological mission – led by the famous Egyptian scientist Zahi Hawass – said in a statement on April 8, 2021, that the discovery could be the most significant find in Egypt since 1922, when British archaeologists discovered the tomb of the boy king Tutankhamen. The lost city is known as Aten. It is 3, 000 years old and dates to the reign of Amenhotep III, the ninth king of ancient Egypt's 18th dynasty who ruled the country from 1391 to 1353 B.C.

Aten is believed to have been the largest administrative and industrial settlement of its era. Hawass said in his statement:

Many foreign missions searched for this city and never found it. We began our work searching for the mortuary temple of Tutankhamun because the temples of both Horemheb and Ay [two other ancient Egyptian pharaohs] were found in this area.

The city's streets are flanked by houses, which some of their walls are up to meters high.

Egyptologist Betsy Brian of John Hopkins University in Baltimore said:

The discovery of the lost city not only will give us a rare glimpse into the life of the ancient Egyptians at the time where the Empire was at its wealthiest, but will help us shed light on one of history's greatest mysteries: why did Akhenaten and Nefertiti decide to move to Amarna?

The announcement comes at a time when Egypt is seeking to promote tourism, following a period of decline due to the coronavirus pandemic and political unrest. The Times of Israel reported that the unrest has:

"dealt a severe blow to Egypt's key tourism sector. The country is seeking to bring back visitors, in particular by promoting its ancient heritage."