Mon, Jul. 3, 2017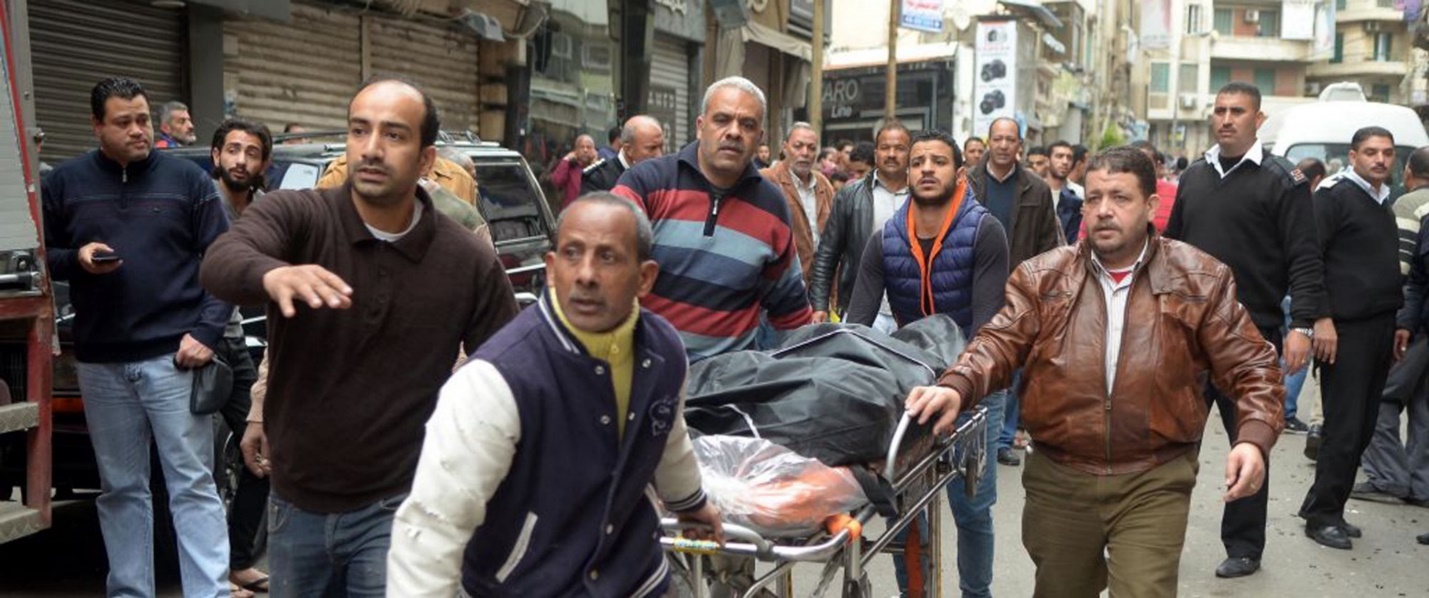 Volunteers carry a body from the rubble of the St. Mark's Orthodox Church bombing.
It started last December: a sudden "strange" and "sad" foreboding that Doctor Nevin Adel Salama couldn't quite pinpoint. She was in the prime of her life — 31 years old, beloved by her fellow church members, with a good job at a local hospital. Friends called her "an angel on the earth." Two days later, she was dead, the victim of a brutal church bombing in Cairo carried out specifically to slaughter innocents in their place of worship. And to send a message. The suicide bomber attacked St. Mark's Coptic Orthodox Cathedral on December 11, 2016 — a public holiday in Egypt — when the chapel would be unusually crowded. He appeared to target the blast with gruesome precision, detonating his 26-pound TNT vest among the women and children, apart from where the men sat. Twenty-four people were slain, 49 more injured. It was the deadliest terror attack on Egyptian soil in recent memory — until the coordinated Palm Sunday 2017 bombings that left 49 dead in two iconic Coptic Christian churches this April.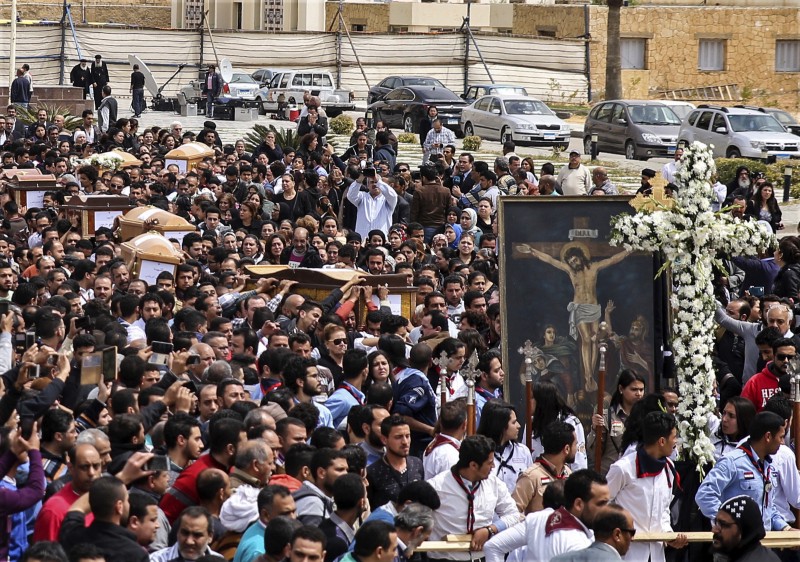 Coffins arrive for the funeral of those killed in a Palm Sunday church attack.
These targeted attacks leave no doubt that religious extremists — often connected to the Muslim Brotherhood and ISIS — are engaged in a full-scale campaign of terror designed to divide citizens across Egypt. These groups' leaders have incited their followers, or sent their operatives, to persecute people in their homes, in shops, in schools, even within the sacred confines of churches throughout the country. Beyond the tragic loss of life, dozens upon dozens of churches and other valuable buildings have been damaged or destroyed in recent years. But so far, such violent attempts to spread fear, sow division between Christian and Muslim neighbors, and undermine society have failed to temper the Egyptian people's resilience or determination to build a safer, more prosperous Egypt. If anything, they've served to shine a spotlight on a significant shift in recent years toward, not away from, religious moderation and tolerance. Indeed, Egyptian President Abdel Fattah el-Sisi has responded with a consistent and powerful message of unity, condemning the violence and declaring that such religious extremism "targets all Egyptians, Muslims and Christians alike." It's a message of hope and inclusivity echoed and amplified by Pope Francis' historic visit to Egypt just weeks after the Palm Sunday attacks. "You have shown," the Pope said during an address to Egyptian religious and civic leaders, "and continue to show, that it is possible to live together in mutual respect and fairness, finding in difference a source of richness and never a motive of conflict." Calling on Muslim leaders to unite against extremist factions and "to unmask the violence that masquerades as purported sanctity," the Pope went on to praise President Sisi for speaking out often and "with a clarity" against fundamentalist proselytizing that smothers diversity and nourishes hate.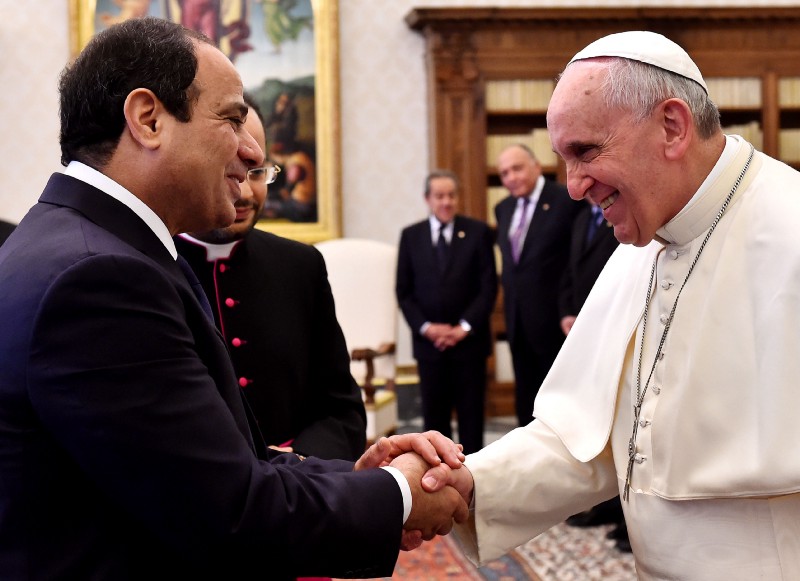 Pope Francis shakes hands with Egyptian President Abdel Fattah al-Sisi, during a meeting at the Vatican, Monday, Nov. 24, 2014.
The Pope's blunt focus on countering religious extremism and terrorism through moderation and tolerance aligns not only with President Sisi's rhetoric, but the government's increasing use of non-military means of counter-terrorism. From tactics as simple as investing in water and agricultural projects in sensitive regions like the Islamic State-affiliated Sinai Province, to more systematic approaches like leveraging Egypt's own religious institutions to promote moderation and tolerance, the country is developing a template for nations across the Middle East to help stem terrorism at its root. Of course, the Sisi government is not abandoning its more traditional counter-terrorism efforts. After more than three decades of military-to-military and intelligence-to-intelligence cooperation with the United States, Egypt's security forces are not only the largest in the Middle East, they're now among the most modern and formidable — thanks in large part to U.S. training and military equipment. This strategic alliance has helped Egypt hone its military and counterterrorism communities into a potent shield against extremists, not only powerful, but agile. Adding strength on strength, Egypt has emerged as a key ally working with partners across the international community to combat ISIS, stabilize lawless regions that serve as breeding grounds for terrorist recruitment and choke off the flow of resources fueling militant groups. But what makes Egypt perhaps the best-positioned nation in the Arab world to combat terrorism is Egypt's reputation as a leader among moderate Arab states — its unrelenting focus on bringing religious factions together over shared values. Just ask Pope Francis.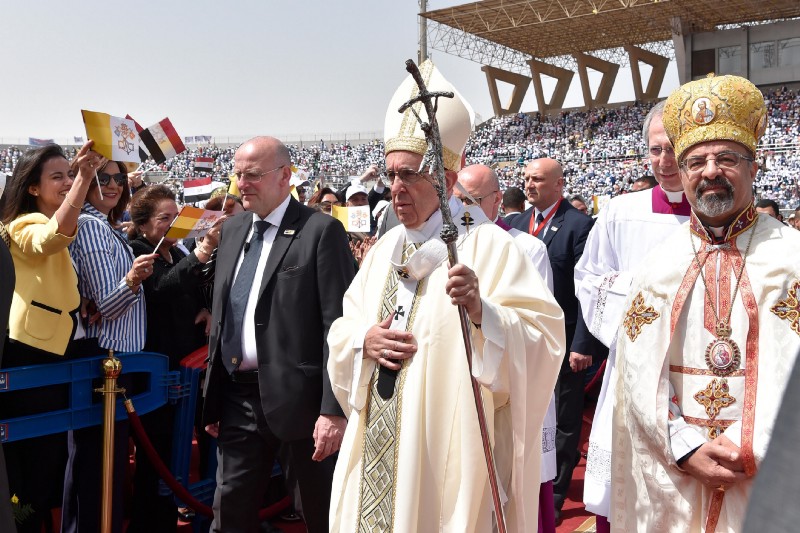 Pope Francis celebrates mass for Egypt's Catholic community at the Air Defense Stadium in Cairo.
"Egypt has a unique role to play in the Middle East and among those countries seeking solutions to pressing and complex problems that need to be faced now in order to avoid the spread of worse violence," the Pope said during his recent visit, calling Egypt "an example to other nations." The Pope's words should be taken seriously, and Egypt's efforts should be applauded and encouraged — but more than that, they should be supported. No one deserves to die like Doctor Salama did, in their place of solace and worship. And the more countries that take Egypt's cue, and, critically, join in Egypt's efforts, the safer all nations will be.