Mon, Jul. 3, 2017
Egyptian women cast their ballots for president.
The trip Dawlat Soulam intended to take when she left New York in September 2010 was a relaxing, 10-day Egyptian vacation. Reconnecting with relatives and friends; visiting historical sites like the pyramids; certainly not volunteering on another political campaign. But there she was, making "the toughest decision" of her life — over the shocked pleas of her parents and friends back home in New York — and offering to manage the campaign of a family friend who'd been struggling for some 20 years to win a seat in the Egyptian Parliament. The candidate was a popular member of the prominent Wadf Party who genuinely cared about her governorate of Ismailia, a Suez Canal city. She had dedicated her career to training rural and disadvantaged communities on women's health issues. But, corrupt elections kept her from Parliament. In this demoralizing situation Soulam saw hope — the kind that had inspired her to serve as a volunteer coordinator on Barack Obama's first presidential run. The lessons learned during that year and a half were vivid in her mind, the inspiration still fresh. "I risked everything I had — my money, family, education and career — for something unknown." And just like that, a 10-day Egyptian vacation ballooned into anything but — a 6-year career in Egyptian politics and civic advocacy. Not to mention a leading role landing one of Egypt's least likely candidates in Parliament. What Soulam didn't know, as she celebrated her friend's victory just three months later, was that the tensions and frustrations with election abuses she had witnessed were about to boil over. The ruling party claimed 95 percent of the seats in Parliament. And Tunisia had just sparked the Arab Spring, leaving Egypt and much of the Middle East on the verge of erupting in chaos. As riots and protests toppled then-President Hosni Mubarak's three-decade regime, Soulam faced another fork in the road — return home to New York and safety or stay and try to help Egypt rebuild after revolution. "I really wanted to use the education that I was privileged to receive here [in the U.S.] and share it there [in Egypt]," says Saloum. "I was trying to be a good citizen of both countries." This time the decision came easier. Soulam saw what needed to be done and knew she could help, "especially coming from the U.S., knowing how our elections are run." But this time, she could also see she wasn't alone. "The main reason I decided to stay was because I really wanted to be part of the change," says Soulam. Today, that change — toward a more prosperous, equitable and democratic Egypt — is slowly becoming reality. More women, young people and Coptic Christians now hold seats in the Egyptian Parliament than has ever before. Societal change is, of course, a slow process. But the changing face of Parliament does demonstrate progress. Women in particular have made huge strides in the Sisi era. One of the most impressive jobs Soulam landed after the revolution was with Egypt's National Council for Women, where she spent three years training nearly 40,000 Egyptian women on their constitutional rights, how to vote and why their voices matter.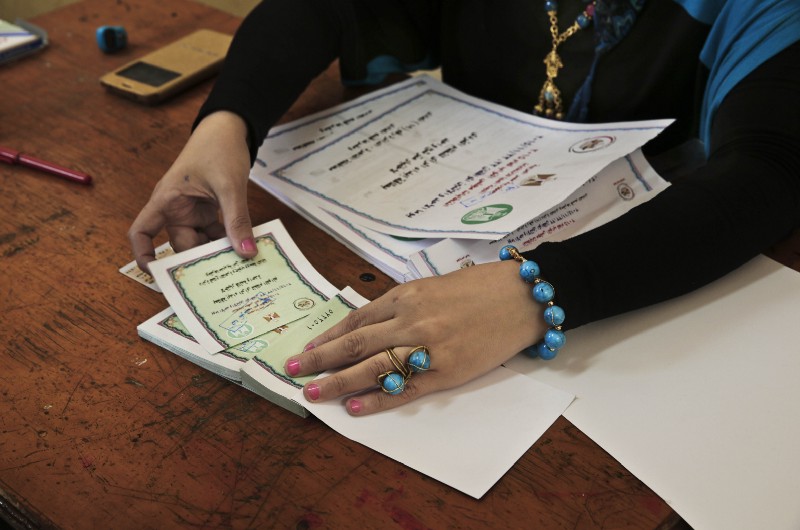 An election worker distributes a ballot to a voter.
Her outreach took deep into repressive, even dangerous areas controlled by the Muslim Brotherhood, where many of the women she trained couldn't read or write. "I was given total authority to choose which topics to train them about," says Soulam, "which I would vary according to the needs of each place I went." Drawing on her background as a policy research analyst in Harlem, NY, working with underprivileged communities, Soulam set about systematically surveying women's social, education and economic status in each region. Despite threats from Muslim Brotherhood operatives to quit, and pressure from the Brotherhood-backed Morsi government, she used the "encyclopedic knowledge" these surveys yielded to open doors for women, town-by-town and face-to-face, all across the country. They key, she says, was listening: "I spoke their language, not mine."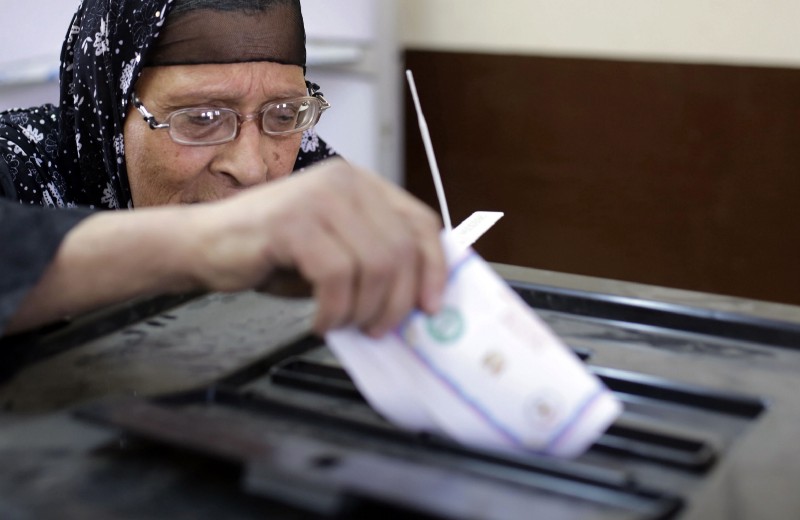 An elderly woman casts her vote in a parliamentary election.
And that's exactly what the Sisi government is doing today — from open elections that delivered the most diverse parliament in history, to a new constitution passed by public referendum, to President Sisi's regular in-person forums with Egyptian youth. Each month, he meets personally with a new crop of young people to listen to their views and offer practical advice to help this rising demographic fully participate in the economy and other important threads of Egyptian life. But it's women's rights where President Sisi may be having the greatest impact. "Since President Sisi came into office, he's shown tremendous respect and attention for Egyptian women," says Soulam. When she and her fellow members of the National Council for Women suggested Sisi declare 2017 the official Year of Women, "it happened." Symbolic gestures like this matter.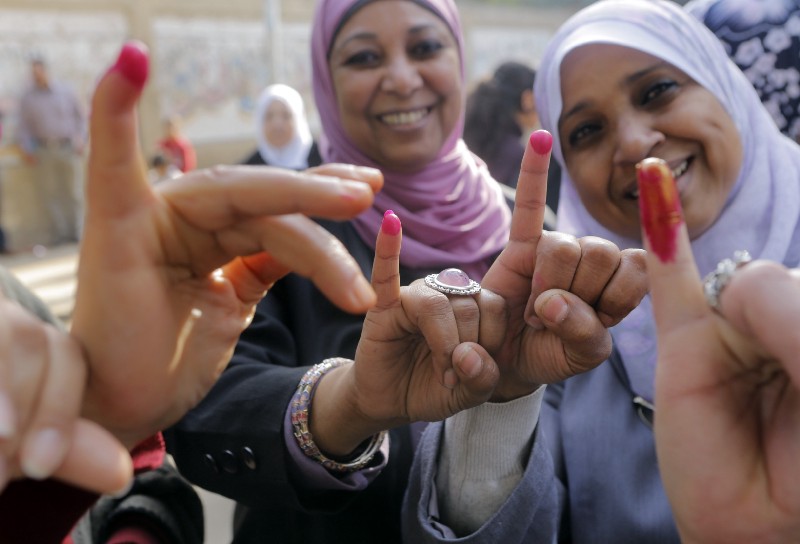 Egyptian women show inked fingers after casting their votes in Cairo, Egypt.
"The highest figure in Egyptian society showed he respects women's efforts," says Saloum. "It encouraged many young Egyptian women to get out, work and be a bigger part of society." But what's even more important is that the government is backing up these gestures with concrete, progressive policies. Over the last year, Saloum's National Council of Women introduced several initiatives to empower young women in all aspects of social, political and economic life in Egypt. And during the year prior, the Ministry of Social Solidarity introduced a new social pension for widows and elderly women, which has dramatically expanded in major cities. In stark contrast to many of its neighbors, Egypt grants women the right to hold public offices and vote, legal prohibitions against discrimination in the workplace, and protection from all forms of violence. Women are also empowered to choose their own attire, to drive and to pursue education, a career and family life. In the Arab world, these advances are significant. And they're making a difference in Egypt.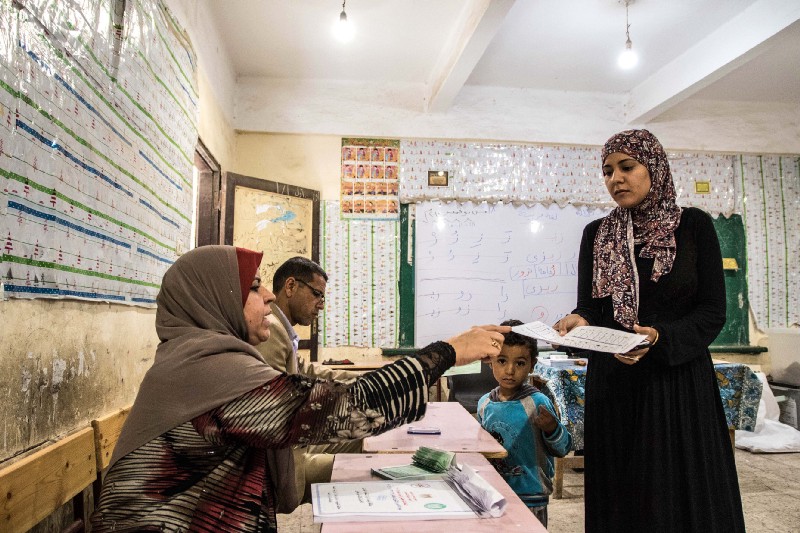 An Egyptian woman takes a ballot at a polling station in Cairo, Egypt.
Soulam's incredible journey into Egyptian civic life may not be the most common, but her entrepreneurial spirit and drive to make a difference is becoming more and more so. "Egyptian women contributed to both revolutions, they were the first to march against Presidents Mubarak and Morsi, and were the first to select and elect President Sisi," says Soulam. "One obstacle that I used to encounter was that many women were hesitant to enter political life because of fear of the men already in control, but gradually this is changing." Case in point: Just this year, residents of Behara elected Egypt's first-ever female governor — Nadia Abdou. It's clear change is underway at all levels of society. And, thanks to leaders like Dawlat Saloum, it's moving faster every day.