First batch of African youths who participated in Presidential Leadership Program celebrates graduation at 7th National Youth Conference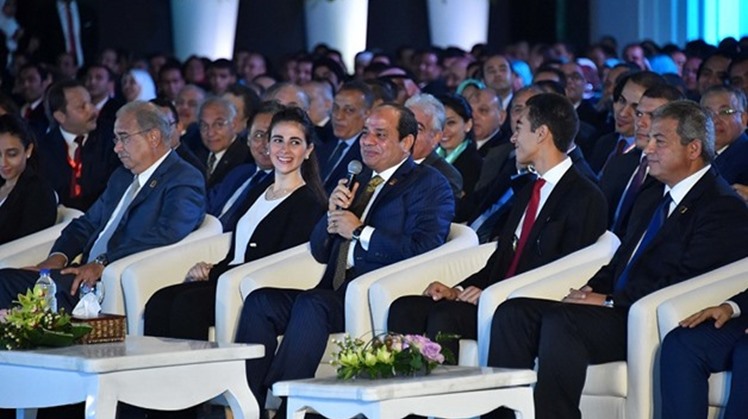 Wed, Jul. 31, 2019
CAIRO – 31 July 2019: Egypt's President Abdel Fatah al Sisi witnessed on Wednesday the graduation ceremony of the first batch of African young people who participated in the Presidential Leadership Program (PLP).

The ceremony was held on the second and final day of the 7th edition of the National Youth Conference, that is held in the New Administrative Capital.

Attending the ceremony were Prime Minister Mostafa Madbouli, Speaker of the House of Representatives Ali Abdel Aal and a number of cabinet ministers along with senior state officials.

Today's activities include the first conference of the "Decent Life" initiative that is aimed at upgrading the living conditions of residents in villages and remote areas in Egypt through providing jobs and improving healthcare and educational services.

The focal point of the youth conference is the "Ask the President" session during which the president will respond to questions by young people in multiple political, economic and social fields.

Head of the National Academy for Training Rasha Ragheb thanked the president for his support to young Egyptian and African people.

She said that the president is aware that young people are the driving engine for reform and reconstruction and they are the pillars of the future.

She added that thousands of young people from all over the country had applied to join the leadership program but only 500 of them were chosen, promising that the selection was made in a fair environment.

The academy was set up in 2017 under the auspices of president Sisi with the aim of building the character of Egypt's coming generations on international scientific bases, she pointed out.

The academy has trained within one year up to 3,282 young people through 23 training programs, she added. The academy also established partnerships with foundations in other countries in France, Switzerland and Korea and provided 161 scholarships in universities in the Netherlands, Korea, Japan, Singapore and India, she indicated.

PLP graduates from Algeria and Nigeria gave speeches at the ceremony lauding the president for his wise decision to train young people from Africa in the leadership program.