Egypt, Saudi Arabia back establishing Palestinian state with East Jerusalem as its capital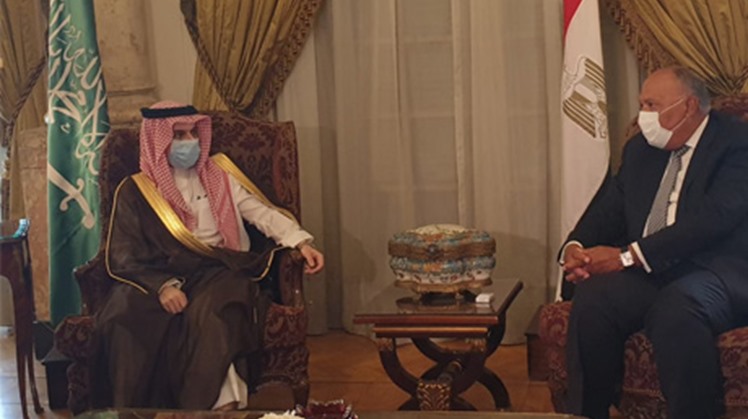 Wed, Dec. 2, 2020
CAIRO - 2 December 2020: Egypt and Saudi Arabia said on Tuesday that they consider the Palestinian cause a central issue for the Arab world and that both countries support an independent Palestinian state based on the 1967 borders with East Jerusalem as its capital.

In a joint statement issued by the Egyptian-Saudi political consultation committee led by Egyptian Foreign Minister Sameh Shoukry and his Saudi counterpart Prince Faisal bin Farhan Al-Saud, both countries said that they support an independent Palestinian state based on the Saudi Arab Peace initiative and related UN Security Council resolutions.

Foreign Minister Shoukry traveled to Riyadh on Tuesday morning to chair the Egyptian-Saudi political consultation committee along with his Saudi counterpart, where they discussed a number of regional issues as well as boosting bilateral cooperation during the coming period, as per the directives of the two countries' political leaders.

Both Shoukry and Farhan asserted their countries' complete rejection of foreign interference in the internal affairs of Arab countries as well as attempts to destabilise the region.

They also stressed the important role of the Arab League in solving crises in the region as well as the importance of boosting joint Arab work.

Both parties also agreed on the importance of guaranteeing freedom of navigation in the Arabian Gulf, the Bab El-Mandab strait and the Red Sea, and stressed that they reject any attempt to hinder navigation there.

Regarding the Grand Ethiopian Renaissance Dam (GERD), Farhan said that Saudi Arabia supports Egypt's rights to preserve its water security.

The two sides agreed on the importance of preserving Libya's security and rejecting all foreign interference in its affairs, and stressed that they support a comprehensive political solution based on the Berlin Conference and the Cairo Declaration.

Minister Farhan also asserted his country's support of Egypt's aim to reach a legally binding agreement on the GERD through serious talks.

Minister Shoukry expressed Egypt's total support for Saudi Arabia protecting its national security and rejects any attack on Saudi territories, asserting that the national security of the kingdom is connected to that of Egypt.


Shoukry and Farhan also agreed that Egypt and Saudi Arabia should work to boost economic cooperation and work on removing any obstacles standing in the way of increasing commercial and investment exchange.

They also discussed the latest developments concerning the coronavirus pandemic and its impact.