New Ethiopian ambassador to Egypt Markos Tekle Rike officially starts duties amid tensions over GERD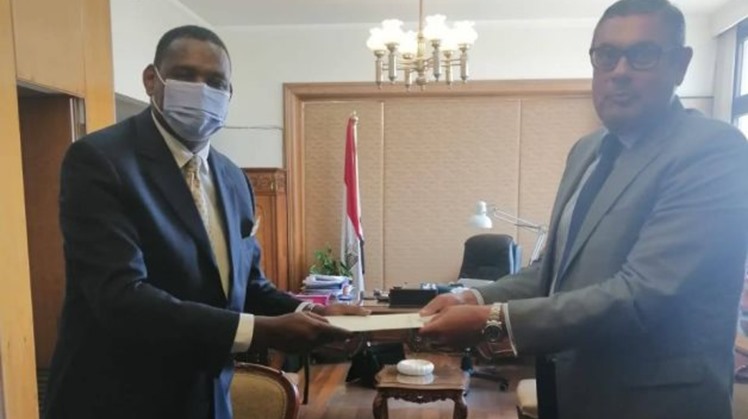 Thu, Aug. 27, 2020
CAIRO – 27 August 2020: New Ethiopian Ambassador to Egypt Markos Tekle Rike on Thursday presented his credentials to the Egyptian Foreign Ministry, to officially start his duties, amid growing conflict between Egypt and Ethiopia over filling and operating the Ethiopian Renaissance Dam.



Rike has delivered a message of appreciation to the Egyptian people, read a statement by the Ethiopian Embassy in Cairo, wishing the people and government of Egypt further stability and prosperity.



Rike's duties in Egypt focuses on enhancing relations between the peoples of the two countries, through cooperation in the social, political and economic fields, he was quoted by the statement as saying.



He hailed the current state of negotiations between Egypt and Ethiopia on the massive dam.



Rike was a Lecturer at the Department of Governance and Development Studies before he joined the diplomatic service in 2010. He servd as the state minister of foreign affairs, ambassador to Japan and director of Ethiopian Foreign Service Training Institute.



Egypt and Ethiopia are at loggerheads over the $4-billion GERD; Cairo voiced concern over its water share after Ethiopia started building the dam on the Blue Nile in May 2011.



Irrigation ministers of Egypt, Sudan and Ethiopia have agreed on the executive steps of negotiations on the issue of GERD earlier in Auugust, a statement by the Egyptian side said, a month after Ethiopia's prime minister congratulated Ethiopians on the completion of the first phase of the dam filling.



This comes as the three ministers have started a summit in the presence of a legal and a technical member from each country. The summit was also attended by observers and experts. This comes in a bid to reach an agreement on controversial points on GERD and to prepare a report that can be submitted to the president of South Africa on August 28, as his country chairs the African Union this year, the statement added.



The Egyptian ministers of Foreign affairs and Irrigation participated Sunday in a tripartite meeting than included Egypt, Sudan, and Ethiopia to resume the negotiations on GERD.



Egypt participated in a meeting after being invited by South Africa. It was agreed to resume the negotiations on Tuesday.



The Egyptian part asserted the importance of reaching a binding agreement on the filling and operating of the Dam in order to protect the water rights of the three involved countries.



The Egyptian part pointed out that it is ready to resume the negotiations as per the outcomes of the AU mini-summit held on July 21st, reported a statement issued by the Egyptian Foreign Ministry.



Earlier this month, Ethiopia affirmed that they will not sign on any agreement that would require passing specific shares for water from GERD to the downstream countries; Spokesperson of the Ministry of Foreign Affairs Dina Mufti said.



The Ethiopian announcement triggered Egyptian and Sudanese objection to the unilateral acts of Ethiopia on filling the reservoir of GERD without reaching an agreement with the downstream countries.