Tue, Jan. 29, 2019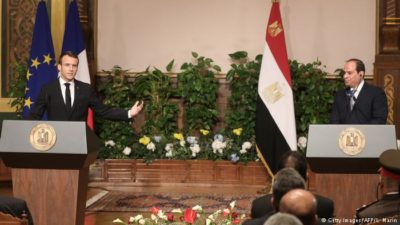 CAIRO – 28 January 2019: Egypt's President Abdel Fatah al-Sisi held a meeting with his French counterpart Emmanuel Macron on Monday, January 28, at Ittihadiya Castle as part of the latter's three-day state visit to discuss bilateral relations, Syria, Libya, the Palestinian cause, and Africa. 
The French President expressed appreciation for Egypt's military role in the region and demographic composition.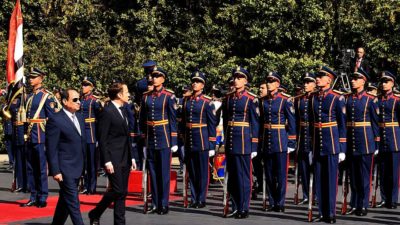 During the meeting, Macron stated that the priority in bilateral ties is counter-terrorism and security. "Both countries faced Islamist terrorism...Egypt's stability and security are crucial for our national strategy and the region...We will cooperate in that realm," he added.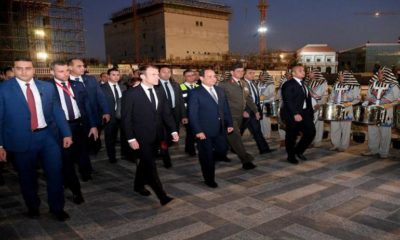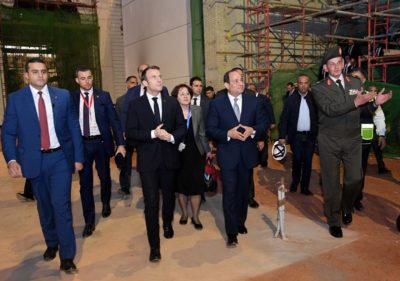 On regional affairs, the French President stated that both countries are looking forward to Africa. As Egypt will chair the African Union (AU) in 2019 starting February, both leaders discussed possible French initiatives to push development efforts in the continent. They also reviewed Egyptian endeavors to preserve nation states in the region and resolve crises.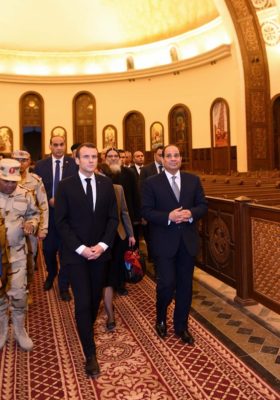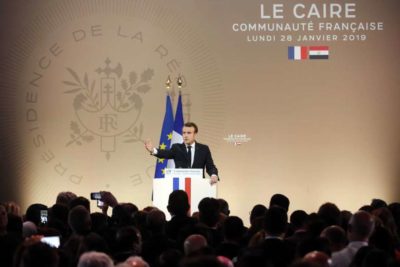 Both leaders agreed to achieve two main goals in Libya, the first one is to support counterterrorism, and entities involved in the process. The other is to accomplish national reconciliation.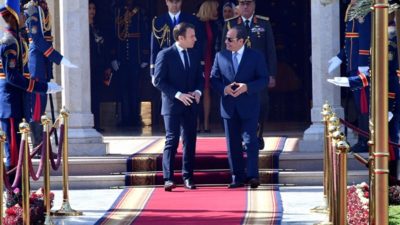 Macron stressed the importance to cooperate with Ghassan Salame, special representative of the secretary general to libya and head of UNSMIL pursuant to human rights council resolution 37/45.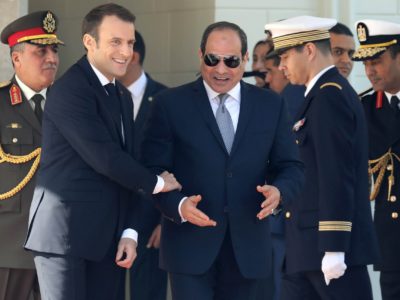 Speaking on Syria's issue, Macron stated that France and Egypt have close views on Syria to reach an integrated political solution and not just defeat terrorism. He highlighted the role of the Small Group on Syria encompassing seven countries including Egypt and France as well as Germany, Jordan, the Kingdom of Saudi Arabia, the United Kingdom, and the United States of America.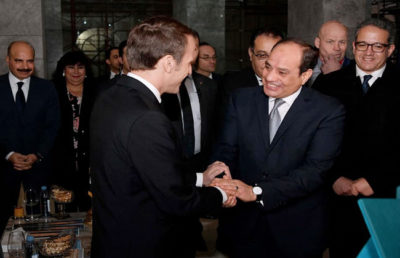 Furthermore, Macron announced launching a joint electric cars project, and cooperation on infrastructure, railways, roads, healthcare, culture, upbringing, and academic cadres training promising to be more committed to teaching the French language in Egypt. Macron also highlighted the need to increase the French presence in the egyptology sector, museum exchange programs, and joint work on Islamic artifacts.