Sisi, Moroccan FM discuss cooperation, regional affairs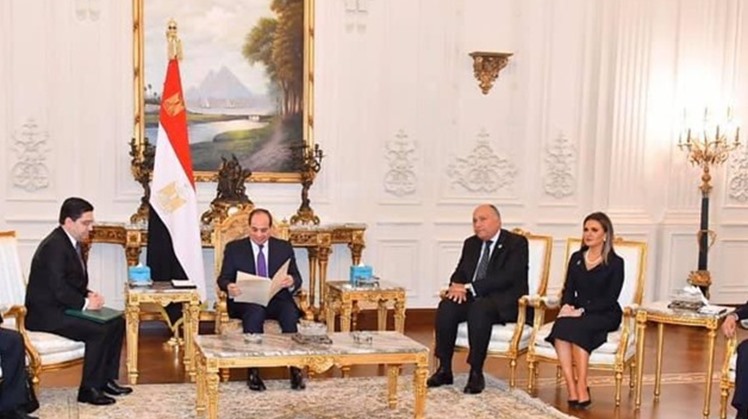 Mon, Nov. 25, 2019
CAIRO – 25 November 2019: Egypt's President Abdel Fatah al-Sisi held a meeting on Friday with Moroccan Minister of Foreign Affairs Nasser Bourita on the sidelines of Africa 2019 conference held in the New Administrative Capital (NAC).

President Sisi extended his greetings to Moroccan King Mohammed VI, and praised the outstanding level of bilateral relations. The president also stressed Egypt's eagerness to push forward cooperation between both countries on all levels, a statement of Presidency Spokesperson Bassam Rady indicated.

On his side, Bourita delivered the greetings of the Moroccan King and a written message where he expressed his country's appreciation for the close ties with Egypt on the official and popular levels. The king also "praised the achievements of Egypt under Sisi in the realms of security, stability, and development restoring its leading role on the regional and international scales. The King of Morocco affirmed his interest to expand bilateral cooperation with Egypt in all sectors," the statement read.

The meeting also consisted of talks on regional matters of mutual interest, particularly the Libyan crisis. "There was consensus among both parties on the importance of providing support for the institutions of the Libyan state, and the integral role of the National Libyan Army (LNA) to combat terrorism, achieve security and stability, and preserve the unity and sovereignty of Libya," the statement pointed out.

The meeting was attended by Minister of Foreign Affairs Sameh Shokry, Minister of Investment and International Cooperation Sahar Nasr, and Moroccan Envoy to Cairo Ahmed al-Tazy.