Prime Minister Madbouly: Egypt Provides Majority of Humanitarian Aid to Gaza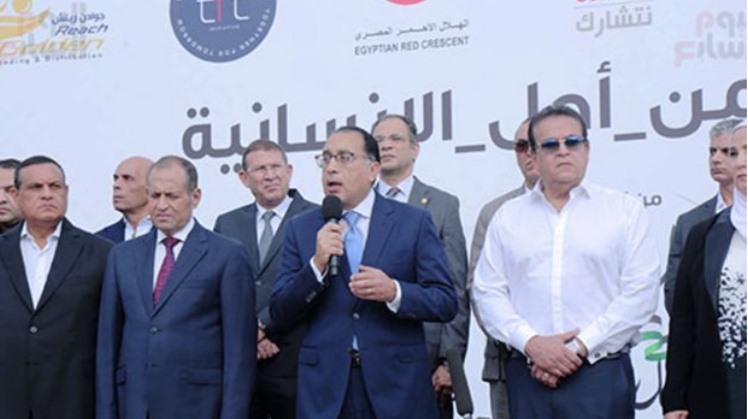 Sun, Nov. 19, 2023
Egyptian Prime Minister Dr. Mostafa Madbouly inspected humanitarian aid trucks and products to be distributed as part of the "Long Live Egypt" Fund convoy, to support the people of Gaza.

The Long Live Egypt Fund launched a truck convoy under the slogan "We Participate for the sake of humanity," which includes approximately 199 large trucks loaded with all medical devices and supplies, medicines, an ambulance, and huge quantities of dry food, canned food, mineral water, dairy, juices, clothes, blankets, carpets, covers, detergents, disinfectants, electric generators, flashlights, medicines for children and infants, milk and baby formula, diapers of various sizes, important medicines during pregnancy, sanitary napkins for women, diapers for the elderly, and personal care tools to provide relief to the people of Gaza.

The Prime Minister said that more than two-thirds of the aid that reached the Gaza Strip came from Egypt.


The Prime Minister continued, "The Long Live Egypt Fund convoy included all the supplies, equipment, and goods," saying, "Egypt and its great and pivotal role are completely clear, and the world appreciates this role."

The Prime Minister continued, "I thank everyone who helped organize this convoy," adding "we will never be late, and this aid will continue to flow around the clock to the people of the Gaza Strip."


"The great challenge that exists in light of the double global standards according to dealing with crises...We must maintain an understanding of the dimensions of the global issue and how to deal globally with this problem. The Egyptian state is capable of growth and development. We will be able not only to provide support at the global level but also at the regional level," he added.