Egypt's Sisi orders to continue efforts to develop Egypt's seaports system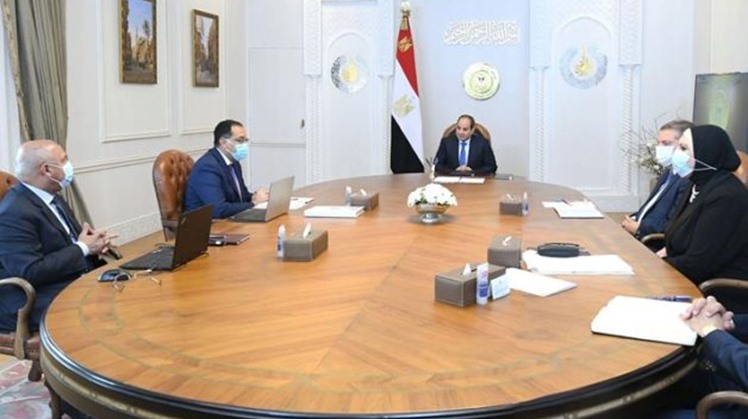 Tue, Jun. 7, 2022
CAIRO – 6 June 2022: Egypt's President Abdel Fattah El-Sisi has ordered continuing the efforts to develop the Egyptian seaports system in accordance to the latest standards in this regard to achieve maximum benefit from the country's geographical location.

This should come in integration with the Suez Canal axis and acts as a link between the east and the west in a way that maximizes the process of trade exchange between the nations of the world, the Egyptian presidency cited Sisi as saying in a statement.

The president made the remarks in a meeting with Prime Minister Mostafa Mabdouli, Minister of Public Business Sector Hesham Tawfik, Minister of Transport Kamel El-Wazir and Minister of Trade and Industry Nevine Gamea.

Wazir reviewed with Sisi the ongoing efforts to develop the various ports, especially the Alexandria Grand Port projects, which will include Alexandria Port, Dekheila Port, and El-Max Port.

The minister, in this regard, reviewed developments related to the construction of infrastructure required for new storage yards, the multi-purpose "Tahya Misr" station, a barrier for large waves, and various logistics areas.

This is in addition to improving the berth of marine services in the port.

The meeting also reviewed workflow in the Safaga port projects. This is in addition to the executive position regarding the completion and development of Ain Sokhna port, which will be linked to the high-speed electric train line network.

Wazir offered an overview of Damietta Port development projects, including the project to deepen the shipping lane and establish container and multi-purpose terminals.

The meeting also reviewed the executive position of the work progress for the third phase of the third line of the metro in addition to the workflow of the Light-rail transit (LRT).

The LRT line has a track of about 103 km long that starts from the Adly Mansour station and extends to each of the 10th of Ramadan City of Cairo and the New Administrative Capital, according to the statement.

Hence, the LRT system will help bring about an unprecedented qualitative leap in the mass transit system in Greater Cairo.

In this regard, the president ordered attaching importance to applying the latest technological systems for communication networks to connect the LRT stations.