Egypt's president asserts full support to enhancing trade, investment projects with Kuwait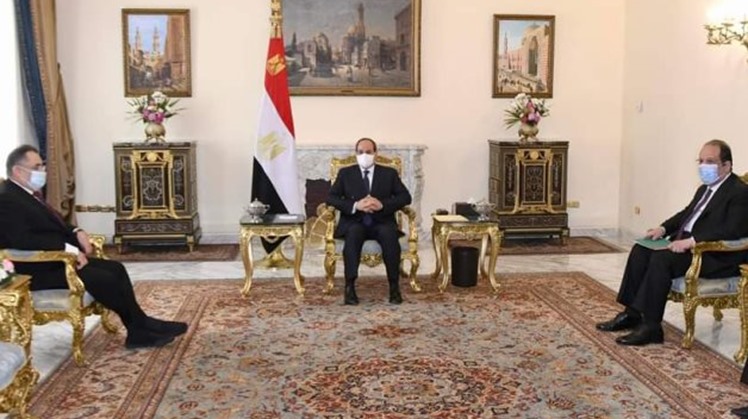 Wed, Feb. 2, 2022
CAIRO – 2 February 2022: Egypt's President Abdel Fattah El-Sisi asserted full support to boosting the movement of bilateral trade and joint investment projects with Kuwait in all development fields in a way that serves the joint interests of both countries.

Sisi held a meeting on Tuesday with Mohammed Jassem Al-Sager, Chairman of Kuwait Chamber of Commerce and Industry, in Cairo in the presence of Head of the General Intelligence Service (GIS) Abbas Kamel and Minister of Trade and Industry Nevine Gamea, a statement by the Egyptian Presidency said.

During the meeting, Sisi expressed the Egyptian government's keenness to maintain regular communication with Kuwaiti investors to support their activities in Egypt and removing all obstacles that may face them.

During the meeting, Sager conveyed the greetings of the Emir of Kuwait, Sheikh Nawaf Al-Ahmad Al-Jaber and the Kuwaiti crown prince Mashaal Al-Sabah.

Sager affirmed the special relations between Egypt and Kuwait, hailing the Egyptian pivotal efforts in the region and its role as a main pillar of security and stability in the Arab world.

He also hailed the comprehensive development progress Egypt has witnessed under President Sisi over the past years.

The meeting witnessed discussions on ways to support the Egyptian-Kuwaiti Business Council for its important role in increasing communication and interaction between businessmen in the two countries and reviewing available investment opportunities and discussing new joint projects, the Presidency said.

This comes especially in the fields of infrastructure, clean energy and water desalination.

The meeting also agreed on the need to continue the periodic meetings of the joint committee between the two sides to discuss ways to enhance economic and trade relations as well as investments between the two brotherly countries.