Egypt's Sisi receives Algerian Counterpart at Cairo Airport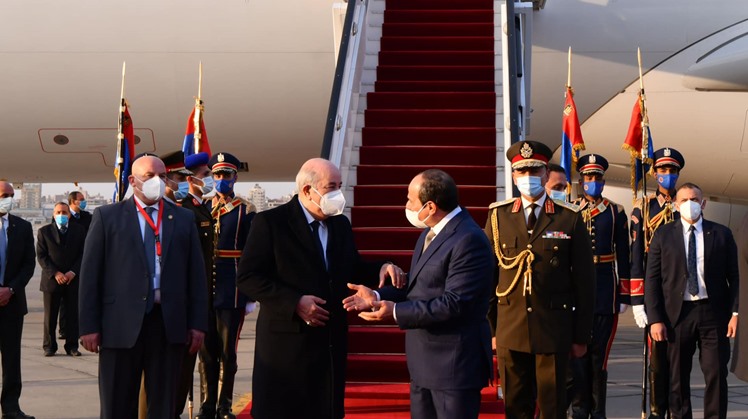 Mon, Jan. 24, 2022
CAIRO - 24 January 2022: Egypt's President Abdel Fattah El Sisi, received his Algerian counterpart Abdelmadjid Tebboune, who is paying Egypt a two-day visit, at Cairo International Airport on Monday, said Egyptian Presidency in a statement.

In remarks to Egypt Today, Algerian Parliament Member Abdelkader Berriche said that Tebboune's visit will have significant outcomes on the political level as it will unify visions and stances regarding geostrategic issues.

This especially includes activating the path of joint Arab work and the role of the Arab League, Berriche said, affirming the importance of unifying the Arab ranks in light of the current international developments.

Algeria would host the Arab League summit due to convene in March; it has been circulated among the diplomatic circles that Algeria, Egypt and other Arab leaders are working on reinstating the membership of Syria at the Arab League after it has been suspended in November 2011.

Meeting in Cairo, earlier in January, President Abdel Fattah El-Sisi and Foreign Minister Ramtane Lamamra discussed mutual relations between Cairo and Alegria.

During the meeting, Lamamra handed over a written message from Algerian President Abdelmadjid Tebboune to Sisi, which expressed Algeria's appreciation of its firm and distinguished relations with Egypt on the official and popular levels.

Sisi and Algerian Foreign Minister voiced support to Tunisian President Kais Saied and also agreed on the need of working to achieve security and stability in Libya.

In their meeting, Sisi and Lamamra also affirmed the need to preserve the Libyan unity and sovereignty and to unify the national institutions in Libya, especially the military and security institutions.

This comes to enhance the international efforts seeking to end the presence of foreign forces and mercenaries in Libya, a statement by the Presidency said.

Sisi and Lamamra discussed developments in Tunisia. They expressed Arab support to President Kais Saied as well as the measures he takes and the efforts he makes to achieve stability in the country.